The rise of online learning has shifted learning norms. Classrooms do not exist in just physical spaces but students have also adapted to virtual learning. Virtual learning platforms allow students get to gather online and learn anywhere. Aside from child-centric classes, even higher education and professional programs have online offerings as well.
We take a look at six virtual learning platforms that allow parents to choose enrichment and academic programmes for their children. The ease, convenience and myriad of options make online classes highly accessible and attractive.
---
Online Learning Platforms for Kids
EDOOVO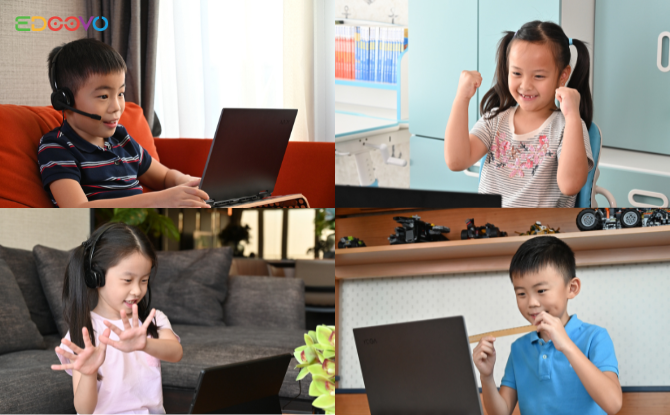 Boost your child's learning effectively with EDOOVO's interactive live online classes for children aged between 3 and 8 years! Offering three core subjects – English, Chinese and Mathematics, their holistic curriculum is based on the Singapore Ministry of Education's framework and taught by qualified and experienced teachers.
---
-- Story continues below --
In a small class setting, EDOOVO students are encouraged to engage actively with immersive storytelling and cool virtual rewards such as trophies and stars for participation. ​Lessons are also reinforced with activity sheets and lesson replay available after each lesson.
With rave reviews from parents around the world, discover why EDOOVO is an award-winning learning platform for kids and sign up for a free trial here!
---
Knovo
Formerly known as MySavvyTutor, Knovo offers a platform for parents to select and reserve classes by private tutors, tuition centres and enrichment centres online. At one glance, one can see the various options from Coding development, Chinese enrichment to Debate classes. Parents can also find an instructor, view credentials and experience as well as reviews from parents. The platform also allows for assignments to be completed and submitted electronically.
As a parent, I like how Knovo was an aggregator for various education providers and tutors. At one glance or one search, I could see a myriad of options and prices. There were also non-academic classes such as debate classes run by Red Dot Academy, TV production by Scott Rosenvelt and even Basics to Vodcasting.
Check out Knovo here.
---
Outschool
We recently tried Outschool and was pleasantly surprised by the myriad of classes available. From themed drawing classes, learning about gems and rocks, sign language, sharks right down to Self-esteem classes taught by teachers across the globe.
Prices of the classes were very reasonable. This offers options to try different classes of various themes. We can also see ratings of the teacher published and reviews written as well.
Try Outschool here.
---
Learner Net
Looking for virtual classes, whether short-term or medium-term? You can search quite quickly for classes on Learner Net that may be suitable for your child. The search function is easy to use with filters such as levels, age, subjects. Parents can also view videos of teachers sharing about their teaching methods to see if it appeals to their child.
You can see offerings by both private tutors and enrichment options here. There are options to join in once-off workshops to make bathbombs, accomplishing goals and learn about Singapore heritage.
Try Learner Net's online classes here.
---
Tenopy
Unsure about whether the class is suitable, try the free trial classes by Tenopy. Apart from academics-focused classes, Tenopy also offers online classes in current affairs, film and media appreciation which are fun and enriching.
More on Tenopy here.
---
Smarter Me
Perhaps you are a parent who wish to develop digital literacy skills and 21st Century skills in your children. Smart Me offers courses and camps focused on just that. Camps are about money matters, innovation, setting up a startup. Courses are also in the same vein of digital literacy – coding, game development and robotics.
Find out more here.