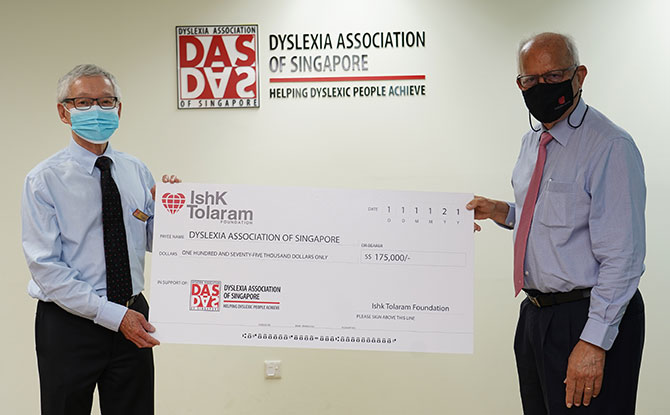 The Dyslexia Association of Singapore (DAS) has received a grant of $175,000 from the Ishk Tolaram Foundation (ITF) to support student bursaries. This was presented on 11 November 2021 by Mr Mohan Vaswani, Founder and Board Chairman of ITF, to Mr Eric Lee, President of DAS.
The grant will support student bursaries that cover the costs of assessment and intervention services for kindergarten-level children who are enrolled in the Preschool Early Literacy Programme (PELP) run by the Specialised Educational Services (SES) division of DAS. It is expected to benefit 60 students in 2021.
---
Ishk Tolaram Foundation's Support for Early Intervention
This is not the first time the ITF is supporting DAS. It had provided funding of $243,000 for the Academic Years 2019 and 2020. This is followed by this year's funding of $175,000 while another $100,000 for Academic Year 2022 has also been pledged.
The Foundation's funding has helped 218 beneficiaries in the last three years.
---
-- Story continues below --
"As an organisation, we believe in the importance of building strong foundations in the early childhood years to give all children an equal start in their learning journeys. We feel very aligned with DAS' work in supporting children with diverse learning needs to achieve this. Through this partnership, we hope to enable more children access to early intervention and the right resources and support to realise their full potential," Sandhya Aswani, Programme Director for Singapore, Ishk Tolaram Foundation.
---
Preschool Early Literacy Programme
Since the PELP's inception in 2006, DAS has supported the educational development of over 2,000 preschool students at risk of dyslexia and other learning differences by offering the programme at 12 of 14 DAS Learning Centres.
The PELP identifies preschoolers who can qualify for this programme through a school-age psychological assessment with the DAS SpLD Assessment Services (SAS) division.
The programme helps to meet the learning needs of young learners through pre- and post-literacy classroom assessments, recording information classroom observations to monitor educational milestones and creating an Individualised Intervention Plan, where the educational therapists and parents work together to set goals based on each student's current needs and skills.
"Preschool is a critical stage in learning as it builds the foundation needed for children to access formal learning in primary school. We are very grateful to Ishk Tolaram Foundation for their generous funding to widen our capacity to support more preschoolers who are struggling with basic literacy. Their support will make a big difference in the lives of many young learners who need specialised resources and teaching to learn effectively," said Mr. Lee Siang, CEO of DAS.