Get a glimpse of the marine wildlife that are seen best when the tides are low in the intertidal zone at Sisters' Island. We got a chance to join the highly coveted free Sisters' Island Marine Park intertidal walk organised by NParks. Here are some of the encounters we had.
More pictures and information can be found here.
Click here to subscribe to our YouTube channel and to see more great videos!
As parents, we want to give Baby the best care we can afford. But how can we be sure that we're making the right...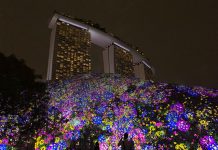 Future Together at Gardens by the Bay, a digital art exhibition, caps off the Singapore Bicentennial commemorations with interactive installations that encapsulate the hope...
FEATURED LISTINGS