Sentosa offers an escape from urban Singapore. With a concentration of leisure activities and fine beaches, it is a great location to head out and unwind with friends and family. For those who are planning to head out to this island off the southern coast of Singapore, here is a quick guide to commonly asked questions about visiting Sentosa.
Quick Guide To Visiting Sentosa, Singapore
1. How do you get to Sentosa?
Sentosa is accessible by car, bus, monorail, cable car and on foot.
For those heading to Sentosa by train, take the MRT to Harbourfront Station, which is found on the North-East Line. From the MRT station, enter the VivoCity shopping mall. Head up to the third floor of the mall to reach the Sentosa Express Monorail Station. Purchase a train ticket to take the train and ride it into Sentosa.
Those who are planning to take the bus can take bus number 123 to directly enter Sentosa.
---
Story continues below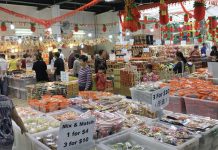 Want to know where to get superb CNY bargains? We uncover where the aunties shop for their festive goodies! Don't let the distance deter...
Not just another light show, Magical Shores at Siloso, Sentosa is Singapore's first beach light show. Now "screening" on the sand, Magical Shores Sentosa...
---
For those who are taking a car or taxi into Sentosa, entry is via the Sentosa Gateway bridge.
It is also possible to walk to Sentosa using the Sentosa Boardwalk.
2. Is there an entrance fee to Sentosa?
Those taking the Sentosa Express monorail will have to pay a $4 fee per person or $2 per person for selected TransitLink concession card holder.
There is an entry fee for cars and taxis entering Sentosa. This is $2 between 12 pm to 2 pm and after 5 pm till 7 am. At other times, the entry fee is $6. This information is accurate as of December 2018.
Those who walk in via the Sentosa Boardwalk can do so for free up till 31 December 2020.
3. What free things are there to do at Sentosa?
When it comes to things to do in Sentosa for free, options include
4. What are the attractions found at Sentosa?
There are various attractions for those visiting Sentosa. These include:
Adventure Cove Waterpark
S.E.A. Aquarium
KidZania Singapore
Fort Siloso
Sentosa Beaches
A.J. Hackett Bungee Tower
Trick Eye Museum
HeadRock VR Park
Wave House Sentosa
Sentosa Merlion
Sit the Sentosa Cable Car line
5. What is there to do with kids in Sentosa?
Depending on the age group, kids will enjoy different activities around Sentosa. These include:
Universal Studios Singapore
S.E.A. Aquarium
Skyline Luge Sentosa
Trick Eye Museum
HeadRock VR Park
Sentosa Merlion
6. Does the MRT go to Sentosa?
The MRT does not go to Sentosa. Instead, you will need to take the MRT to Harbourfront MRT station and change over the Sentosa Express monorail.
7. Is the Sentosa Boardwalk free?
Yes, it is free to walk along the Sentosa Boardwalk and entry to Sentosa on foot, using the Sentosa Boardwalk, is also free.
8. How long is the Sentosa Boardwalk?
The Sentosa Boardwalk is 700 metres long. It is easily accessible from VivoCity mall and has a series of travellators to help you cross it faster. Once you have crossed the Sentosa Boardwalk, you will find yourself at Resorts World Sentosa.
9. How do I take the cable car to Sentosa?
You can board the cable car to Sentosa from either Harbourfront Tower 2 or from Mount Faber. Once you arrive at Sentosa, you will disembark at Mount Imbiah. From Mount Imbiah, you can also take a separate cable car line to reach Siloso Point.
10. What is there to do at Resorts World Sentosa?
Resorts World Sentosa is an integrated resort located at the northern shore of Sentosa. Besides the casino and MICE facilities, other major attractions found at Resorts World Sentosa include the Universal Studios Singapore theme park, Adventure Cove Waterpark and the S.E.A. Aquarium. There are also smaller attractions such as the HeadRock VR and the Trick Eye Museum.
Resorts World Sentosa also has plenty of restaurants and several hotels.
11. Is Universal Studios Singapore located at Sentosa?
Yes, the Universal Studios Singapore theme park is located at Resorts World Sentosa on the northern part of Sentosa island.
12. What is Sentosa Cove?
Sentosa Cove is a residential area located at the Eastern end of Sentosa. It is also home to a marina club and series of dining restaurants and outlets.
13. What hotels are located in Sentosa?
Sentosa is home to quite a number of hotels. These include Sofitel Singapore, Capella Singapore, Amara Sanctuary Resort, Le Meridian Hotel, Shangri-la's Rasa Sentosa Resort & Spa, Siloso Beach Resort, Sentosa Village Hotel and W Hotel.
14. Are there beaches at Sentosa?
Sentosa has a number of beaches. These include Siloso Beach, Palawan Beach and Tanjong Beach. These are located on the southern side of the island.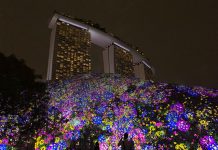 Future Together at Gardens by the Bay, a digital art exhibition, caps off the Singapore Bicentennial commemorations with interactive installations that encapsulate the hope...
Singapore's shores are teeming with wildlife we wouldn't usually notice. Getting to an intertidal zone during periods of low tide is the best way...
FEATURED LISTINGS