From 31 March to 2 April 2017, visitors to River Safari's Giant Panda Forest will not be able to see Kai Kai and Jia Jia. 
The panda pair were taken out of their exhibits on 30 March 2017 and brought together in a den to try to make a baby panda. 
In addition to natural mating, artificial insemination will also be carried out to maximise the chances of Jia Jia conceiving. The veterinary team at River Safari will be assisted by a team led by Prof Ng Soon Chye, an obstetrics and gynaecology specialist internationally renowned for his expertise in reproductive medicine.
While the two giant pandas are away, visitors will still be able to view the red pandas at the Giant Panda Forest.
West is best and we have the biggest bouncy playground to prove it. Bouncy Paradise which was last seen with its pop-up at PeopleUp@Pandan....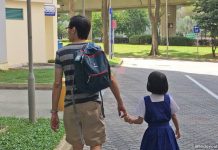 Kindergarten 2 to Primary 1. Primary 2 to Primary 3. Primary 4 to Primary 5. Children from local schools in Singapore experience many transitions...
FEATURED LISTINGS