With temperatures soaring in Singapore, our animal friends at Singapore Zoo have come up with some fun and practical ways to beat the heat!
Tip 1: Cover Up!
Satria, Singapore Zoo's Sumatran orang utan models a fashionable gunnysack. If you can't find one in your favourite colour, try a scarf or an umbrella instead!
Tip 2: Take a Dip!
The water looks good doesn't it? Omar, Singapore Zoo's white tiger seems to think so and has gone for a splash.
---
Story continues below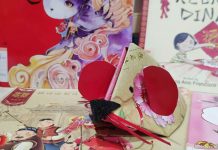 Dong dong chang! Right on the heels of Christmas is another important season for the Chinese – the Lunar New Year, of course. Remembering...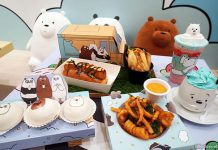 Grizzly, Panda and Ice Bear! Calling all fans of these three beloved bears from the popular Animated Series 'We Bare Bears'! You'll be thrilled...
---
Tip 3: Slap on the Sunscreen
Some say that mud has therapeutic properties. Bora the white rhinoceros seems to agree and enjoys soaking in it. The mud not only helps Bora stay cool but also keeps away sunburns and parasites. If mud is not your thing, sunscreen is a great alternative!
Tip 4: Share a Popsicle with a Friend
Jati, Singapore Zoo's Asian elephant has her trunk wrapped around a giant popsicle and Gambir looks like she wants some too. Is that the ringing of the ice cream man's bell I hear?
Tip 5: Keep Your Head under Water
Pygmy hippos can stay underwater for up to six minutes. While we don't recommend that you try matching their record, sometimes, don't we wish we could?
Tip 6: Only Come Out at Night
Who needs daylight anyway? Turn nocturnal to escape the heat like the Asiatic lions at Night Safari. In fact, 90 per cent of tropical species come out at night when it is cooler.
If you are looking for more ways to beat the heat, in addition to the water play areas at Singapore Zoo's Rainforest KidzWorld and Jurong Bird Park's Birdz of Play, here are other water playgrounds around Singapore where the kids can splash down and cool down.
You may also want to try this ice cream-making activity with the kids in the cool comfort of your home.
What better a way to scurry into the New Year of the Rat than with a new year feast at Fat Chap! Priding themselves...
Singapore's shores are teeming with wildlife we wouldn't usually notice. Getting to an intertidal zone during periods of low tide is the best way...
FEATURED LISTINGS