Fancy learning more about pandas? Or want to uncover how the manatees are cared for?
The River Safari has launched two new behind-the-scenes programmes that allow visitors to step behind the railings and experience what it is like to care for the animals at the river-themed wildlife park.
Be a Panda Researcher gives participants to gain insights into the endangered pandas through activities such as "dissecting" panda droppings, examining paw prints and other markings, as well as to understand the effort that goes into caring for Kai Kai and Jia Jia's special dietary needs.
In Fishy Business, participants will be able to explore takes places to keep the Amazon Flooded Forest exhibit going. They will explore the massive life support system of the aquarium, conduct water tests and prepare food and enrichment for manatees and arapaimas.
Be a Panda Researcher and Fishy Business are the first two specially curated programmes being offered by River Safari to the public. Ms May Lok, Director, Education, Wildlife Reserves Singapore, said: "We hope visitors who participate in these programmes will walk away with a deeper understanding on the park and its animal residents, and a greater appreciation of freshwater ecosystems."
Be a Panda Researcher and Fishy Business programmes are each available at S$39 for adults and S$29 for children, inclusive of River Safari admission. Both tours are recommended for children 9 years and above. Reservations can be made online athttp://education.riversafari.com.sg/whatshap.html
AMK Hub, Jurong Point and Thomson Plaza are having a Pokémon-themed Christmas this year and, with so many Pokémon activities, you will definitely want...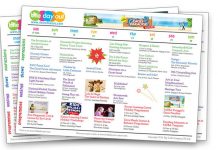 The school holidays 2018 are here! The year-end school break in Singapore takes place from 17 November to 31 December 2018 and it is...
FEATURED LISTINGS