From 5 August to 31 October 2013, the Omni-Theatre will be closed for improvement works. During this period, the entire Omni-Theatre building will be closed to the public.
Neighbouring attractions, Science Centre Singapore and Snow City, will continue to operate, as will the Observatory which opens every Friday evening, except on Public Holidays.
The Omni-Theatre first opened in 1987 and was previously upgraded in January 2011.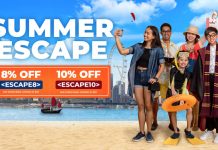 With the holidays quickly approaching, you may be ramping up the preparations for the family holiday. We've got some news for you. Now, there is a...
With our little red dot's unpredictable weather, the many indoor playgrounds in Singapore are very welcomed! Not only do the children get to run...
FEATURED LISTINGS