This river-themed wildlife park takes visitors through 10 different rivers from around the world. Highlights at the park include The Giant Panda Forest which houses two giant pandas, Kai Kai and Jia Jia, and the Amazon Flooded Forest exhibit.
Useful Information
Address:
80 Mandai Lake Rd, Singapore 729826
Contact:
+65 6269 3411
Visit Website
Not just another light show, Magical Shores at Siloso, Sentosa is Singapore's first beach light show. Now "screening" on the sand, Magical Shores Sentosa...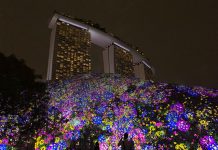 Future Together at Gardens by the Bay, a digital art exhibition, caps off the Singapore Bicentennial commemorations with interactive installations that encapsulate the hope...
FEATURED LISTINGS