From 4 April till the end of the month, the eco-loving crew at Super Loco Group have teamed up with Fable Food—one of Australia's most exciting plant-based food brands—to honour World Earth Day with their first-ever Loco Earth Month.
For those wondering what that looks like, think carbon-conscious Mexican dining, meaty mushroom discoveries, and weekends' worth of sustainable daytime activities to keep one's carbon footprint in check.
---
Super Loco Earth Month
This Loco Earth Month feast on the Earth Month Menu that's available across all outlets throughout April.
A four-course Mexican feast priced at S$80 per pax, the menu is filled with delicious and delightful vegetable-forward dishes that encapsulate the group's zero-waste philosophy and love for sustainability. Here are some of the dishes that we tried.
---
-- Story continues below --
Trying Loco Earth Month's Menu
Zero to Hero Cocktail
Ever heard of a zero-waste cocktail looks like, Loco Earth's concoction consists of upcycles fruit waste including pineapple, lemon, grapefruit, mango and lime offcuts accumulated from the bar and kitchen. It is thoughtfully infused with Arquitecto Blanco tequila to result in a tropical-tinged base spirit. It is then shaken with a woody blend of mezcal, cherry heering, curaçao and lemon for heady but refreshing sips.
Those who enjoy sweet and flavourful alcoholic drinks should give a shot.
---
Corn Chips, Guacamole and Salsa Roja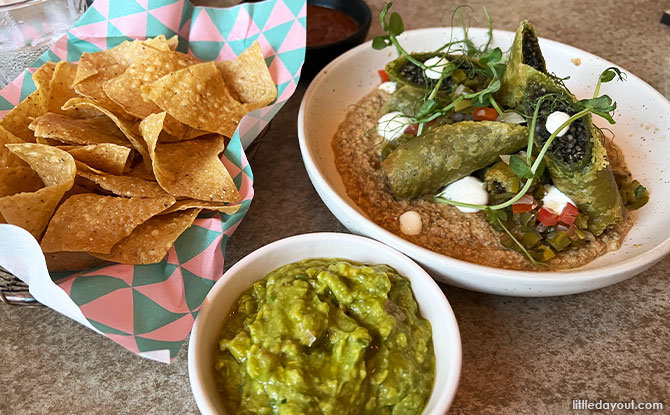 Enjoy this staple starter snack with homebaked tortilla chips served with a side of creamy guacamole and a tangy salsa roja.
---
Garden Flautas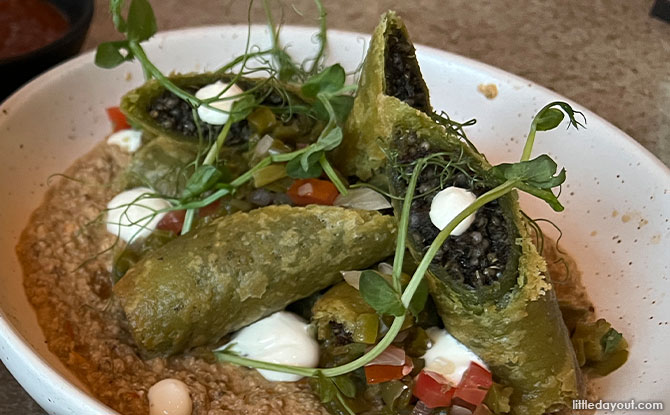 These deep-fried spinach herb tortillas reminded us a little of spring rolls and are stuffed with Mexican truffle, quinoa and goat cheese for an earthy and crispy bite.
It is served on a bed of sikil pak dip blitz which is made from repurposed roasted pumpkin seeds, finished with lime sour cream and cactus pico de gallo, which is basically, cactus.
---
Fable Al Pastor Taco
This was a unique dish that we got to try. This dish has no meat but is filled with Fable's shiitake protein. With the texture being similar to that of pulled-pork, the "meat" is first marinated to impart smokey BBQ flavours before being tucked into a bamboo ash tortilla alongside crispy kale, roasted corn, watermelon radish and chipotle mayo.
Super Loco Custom House Pan-Roasted Barramundi
---
Pan-roasted slab of Sustainably farmed Barramundi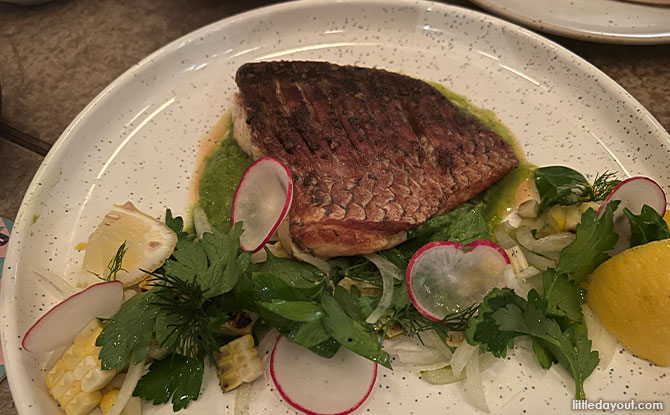 The perfectly roasted fish is set atop a soft herb salad, crunchy corn tortilla and salsa verde for a bright and zesty compliment. This was definitely our favourite dish out of the various ones we tried.
Diners can also enjoy the fish pan-fried or seared, depending on the outlet that they are dining at. Vegetarian diners can opt for a Pumpkin Enchilada (Lucha Loco) stuffed with caramelised pumpkin, mole verde and cashew crema or an Enchilada (Super Loco) for a hearty filling of multigrain rice, goat cheese, pumpkin and frijoles with a triple spice of pico de gallo, lime and cashew salsa and roja.
---
Pomegranate Tres Leche
Tres Leche is a type of layered milk cake. The traditional dessert is given an update with layers of milk sponge, coconut cream and pomegranate gelée. The cake is served on top of crunchy charcoal crumble.
---
Our thoughts on Super Loco's Earth Month Menu
Overall, we really enjoyed this meal and see ourselves coming back for dishes such as the Pan-Roasted Barramundi and the Zero to Hero Cocktail. We were most surprised by the shiitake protein in the Fable Al Pastor Taco, as the texture and flavours were very unique and memorable.
For more information, visit the Super Loco site here.