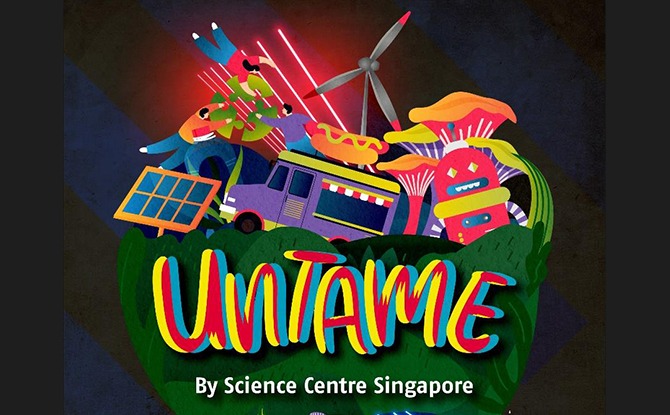 From 29 October to 5 December 2021, Science Centre Singapore presents UNTAME – Rebooting Our World – It's A Science Thing.
---
UNTAME – Rebooting Our World – It's A Science Thing by Science Centre Singapore
Here's what's on for UNTAME – Rebooting Our World
UNTAME Online
Taking place between 29 October and 5 December 2021 is UNTAME Online. The fate of the Earth lies in your hands, are you game enough to save it? Go on to and online interactive platform where you can help restore ravaged environments back to their pristine state in a series of mini-games, video quizzes and exciting real-world activities! Attractive prizes are also up for grabs!
UNTAME Day
Just in time for the school holidays, Science Centre Singapore is unveiling some fun with UNTAME Day from 20 to 28 November 2021! Discover how to weave some upcycling magic and transform used items into beautiful creations through an array of fun activities and workshops at Science Centre Singapore! Plus, you can also be part of a record-breaking event!
UNTAME After Dark
When the sun goes down, the light turn up at Science Centre Singapore from 3 to 5 December 2021. Have a unique experience at Science Centre Singapore as it opens its doors for a special after dark event! See fan favourite exhibitions in a completely different light, catch cool performances, feast on savoury food and be amazed by the spectacles of lights and colours in the light installation!
---
KidsSTOP Academy Activities Week
In addition, KidsSTOP™ Activities Week is back for the school holidays. Children will learn about science through creating and playing with their DIY handicraft and what's more, they get to bring their creation home too!
Lightning Bug
Did you know that some insects like the fireflies use light at night to attract prey? Learn more about insects by making a lightning bug
Monarch Butterfly
Did you know that Monarch caterpillars are greedy eaters? Learn more about the life cycle of Monarch Butterfly by making a butterfly craft.
Sea Jelly Light
Create a light inspired by the bioluminescent sea jelly. Watch as it glows in the dark and discover why!
Penguin Coasters
Did you know penguins can stay in the icy waters for a long time? Join us to learn how penguins can keep dry in the cold, icy waters of Antarctica by making a penguin coaster.