We hope that your June holidays are going splendidly! With so much going on, we sure that you are spoilt for choice when it comes to things to do this weekend in Singapore, 10 and 11 June 2023.
If you are looking for fun things to do this weekend, you've come to the right place! Here's a look at what's on.
---
What to Do This Weekend in Singapore: 10 & 11 June 2023
Robo-bash!
Did you know that KidsSTOP turns 9 this year? Pay a visit to the children's science centre where the birthday celebrations include fun bot-tastic activities from 9 to 11 June. Children will get to try out different toys and gadgetry as they take a "byte" out of tech. Get more details about what's on at KidsSTOP this June.
---
-- Story continues below --
---
The Great Climate Adventure with Arlo
Take part in a penguin rescue mission at HarbourFront Centre. At this free event, kids will have to make their way to the Antarctic in search of a stranded penguin before finding a way back home! Complete the mission to earn a Ranger Buddies badge! Plus, there are great deals around the mall too. Find out more about The Great Climate Adventure with Arlo at HarbourFront Centre.
---
My Little 90's Job Adventure at Kiztopia Town
Work becomes child's play at VivoCity! What do the kids dream of becoming when they grow up? Michelin-awarded chefs? Crime-busting police officers? Animal-loving veterinarians? Head down to Kiztopia Town where kids can have fun experiencing these different jobs. They'll even get to earn KizKash that can be exchanged for attractive prizes! Learn more about My Little 90's Job Adventure at Kiztopia Town.
---
Summer Fitness Dash
Surf's up! Get ready to race to victory at Summer Fitness Dash, The Star Vista's kids obstacle course for those 6 and above. The summer-themed obstacle course starts off with a zipline and will take kids through exciting sections that test their dexterity and balance. Psst.. there is also a Beat It to Win It challenge taking place on selected weekdays with $100 worth of vouchers up for grabs! Find out more about the Summer Fitness Dash at The Star Vista.
---
Bluey at Gardens by the Bay's Children's Festival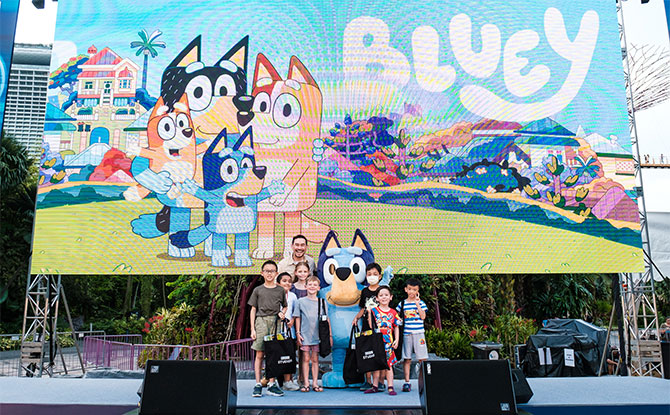 Gardens by the Bay's Children's Festival opens this weekend on 10 June. You can go on a quest to help Calvin the caterpillar find his lost shoes or enjoy fun craft activities and allow your imagination to run wild. Bluey will be there too with a mascot appearance at 3 pm and 4 pm on 10 and 11 June, as well as a live show on 10 June, 5.30 pm.
---
Pesta Ubin 2023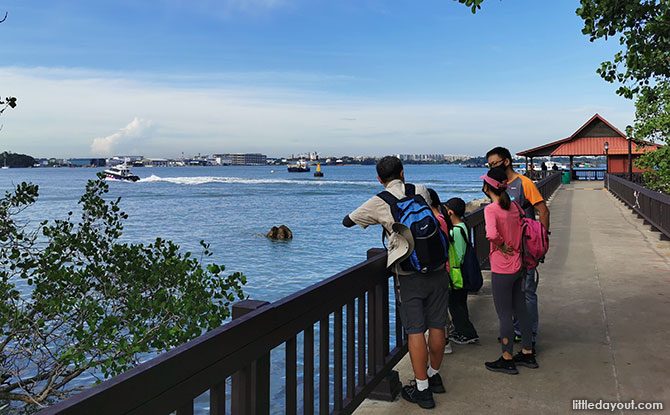 Experience the beauty of Pulau Ubin and the outdoors with the activities being organised as part of Pesta Ubin 2023. Go birdwatching, learn to draw local wildlife, explore Chek Jawa or take part in a cycling rally around the island. Find out more about what's on for Pesta Ubin 2023.
---
Happy Poli-days at Snow City
Head on down to Snow City Singapore to say hello to Poli and Amber from Robocar Poli, the original animation television series from ROI VISUAL! The pair are in town for meet and greets. And while at Singapore's only permanent snow centre, you can also enjoy hourly snow falls and a weekend Snow Science Show too. Get more details about Happy Poli-days at Snow City.
---
Bouncy Fun with Looney Tunes
Slide, climb and whoop it up on free-to-play, larger-than-life Looney Tunes-themed inflatables. Slide into Bugs Bunny's Underground Rabbit Hole before gliding down the slide into Daffy Duck's Pool. Go wild jumping in Tweety Bird's Cage. Also check out the Looney Tunes & DC mashup premiums and limited-edition WB100 merchandise created exclusively for the centennial celebration at Suntec City. Get more details about Bouncy Fun with Looney Tunes at Suntec City.
For even more great ideas about what's on, check out our Amazing List of June School Holiday activities.