Back for the second year, Japan Rail Café is inviting "passengers" on board The Japan Rail Fair 2021. This fun-filled virtual fair promises an exhilarating ride of free and ticketed live programmes over three days from 16, 17 and 23 October 2021.
Participants will be able to "visit" prefectures such as Akita, Tokyo, Fukushima, Wakayama and more through food, drink and other interesting activities.
---
Enjoy the countryside of Hachinohe
Some ticketed live stream programmes that participants should look out for include the "Let's Enjoy The Countryside" event by JR East Hachinohe Train Depot. This tour is led by lively train conductors and drivers who will introduce the views of the Hachinohe countryside.
Participants will also join them for a seafood barbecue, Senbei Jiru (rice cracker soup) and learn about the local railway and food. Those who register for the VIP package will be able join a toast with some "Hassen" Japanese Sake by the beautiful Tanesashi Coast. Tickets are available via Peatix here.
"Drive" a train in Fukushima
Another program that train enthusiasts should not miss is "A Train Conductor's Life. Participants will be able to 'drive' an actual train alongside the JR East crew while experiencing 'never-before-seen views of the Fukushima countryside from the driver's seat.
The VIP Tour Package includes priority engagement with JR East train crew, an original JR EAST itinerary timetable, personalised souvenir nametag, traditional 'Kokeshi' craft doll DIY set, handwritten note from the JR East train crew and a surprise gift, along with free home delivery. Tickets are available via Peatix here.
---
Autumn party with Akita Inu dogs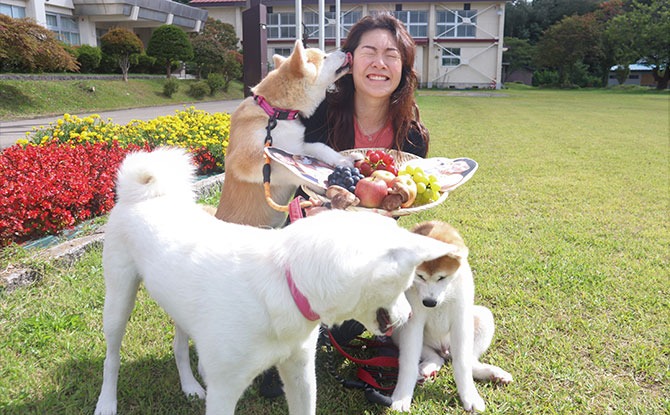 Other fun activities include an Autumn party where participants will be able to "visit" Northern Akita and experience the picking of fresh produce such as apples, grapes and mushrooms. Adorable Akita Inu dogs are on the RSVP list as well. This event is free and will be happening on Saturday, 23 October from 12 pm to 1 pm on Japan Rail's Facebook and Youtube page.
---
Enjoy railway bento sets at the Japan Rail Fair
Other than online events, from 1 to 31 October 2021, dine in guests will be able to get a selection of ekiben (railway bento). Get in the mood with dishes such as Teriyaki Chicken Wappameshi, Grilled Scallop Wappameshi and a JR East-exclusive ALFA-X Kids' Bento which is presented in a box modelled after the Class E956 experimental Shinkansen train. Diners may add $3 for a drink set, and choose from Original Drip Coffee, Cold Brew, Citrus Green Tea and Beauty Tea.
See the full line-up of programs that are happening at The Japan Rail Fair 2021 at the site here. Get more updates about the website here.