Events for 28 May 2019
Day Navigation
All Day
Gallery Children's Biennale 2019: Embracing Wonder at National Gallery Singapore spreads the message of art as a way to discover and explore new worlds. This second edition of Gallery Children's Biennale features 11 artworks by 13 Singaporean and Southeast Asian artists. It is a hands-on exhibition that invites children and adults alike to embrace the wonder
Find out more »
Ongoing
A collaboration between Sun Yat Sen Nanyang Memorial Hall and the Memorial Museum of 1911 Revolution in Guangzhou, Between the Lines – The Chinese Cartoon Revolution examines the links between the 1911 Revolution in China and the emergence of Chinese cartoons in Singapore.
Find out more »
Gateway Theatre's weekly kids programme within the Gateway Theatre Creative Arts Spaces includes storytelling, arts and crafts, free play activities, as well as featured parenting talks and workshops.
Find out more »
Dream Big, Fly High on the 60th Anniversary Barbie® Flight at Singapore Flyer.
Find out more »
Rewild Our Planet is Singapore's first Social Augmented Reality (AR) experience, jointly brought to you by WWF, Google, Netflix, ArtScience Museum at Marina Bay Sands and PHORIA.
Find out more »
Fall down the rabbit hole into Wonderland, an immersive, playful and interactive exhibition for all ages, celebrating Lewis Carroll's timeless tale of Alice's adventures.
Find out more »
Learn about the different smells that orchids produce and take in the scents at the Fragrance Box in Gardens by the Bay's latest orchid display in Cloud Forest.
Find out more »
Spongebob is here at Paradigm Mall JB. Just 15 mins from Singapore, Paradigm Mall boasts over 300 shops/eateries, an ice skating rink, rock climbing facility and 16 screen cinema.
Find out more »
An immersive theatrical experience that will lead you across four magical realms and 22 experiential rooms, for both the young and the young at heart.
Find out more »
Enjoy free admission* to National Orchid Garden from 25 May to 30 June for students, Singaporeans, Permanent Residents and Work Permit Holders.
Find out more »
Conduct exciting experiments like creating a simple fire extinguisher, separating colours in candy, and making natural pH indicators. Create and take home your own slime!
Find out more »
+ Export Events
Search by:
All | Workshops | Holiday Programmes | Exhibitions | Theatre | Nature | Outings
Gallery Children's Biennale 2019: Embracing Wonder at National Gallery Singapore spreads the message of art as a way to discover and explore new worlds. This...
The Yard specialises in providing Gymnastics, NinjaZone, Trampoline, Tumbling and Freestyle camps and programs for all age groups and ability levels. We strive to inspire fun, interactive and technique focused training environments. REGISTER NOW FOR OUR EARLY BIRD SPECIAL! NO REGISTRATION FEE!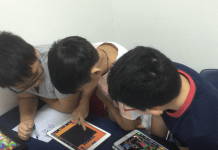 Looking for fun activities to do during the upcoming June school holidays? Choose from a host of exciting programs - popular Science programs, Robotics & Video-Game Creation workshops, there will be one that will suit the interests of your child!
A fun and immersive parkour and flips experience for kids to discover themselves through movement! Kids will learn fundamentals of learning parkour and flips the principles of training safely.