Events for 4 April 2019
Day Navigation
All Day
In presenting the first Minimalism-focused exhibition in Southeast Asia across two leading cultural institutions, visitors can expect a wide range of historical and contemporary works, immersive and site-specific installations, as well as interdisciplinary programmes from artists such as Mark Rothko, Carmen Herrera, Tatsuo Miyajima, Donald Judd, Anish Kapoor, Mary Miss, Olafur Eliasson, Margaret Leng Tan,
Find out more »
Ongoing
A collaboration between Sun Yat Sen Nanyang Memorial Hall and the Memorial Museum of 1911 Revolution in Guangzhou, Between the Lines – The Chinese Cartoon Revolution examines the links between the 1911 Revolution in China and the emergence of Chinese cartoons in Singapore.
Find out more »
7.30 pm
Demonstrating the dynamic characteristics of Chinese bamboo instruments sheng, dizi and the versatility of Chinese percussion, this is an energetic chamber performance led by Ding Yi Music Company's virtuosos Soh Swee Kiat, Ng Hsien Han and Low Yik Hang.
Find out more »
+ Export Events
Search by:
All | Workshops | Holiday Programmes | Exhibitions | Theatre | Nature | Outings
Through project-based learning, First Code students build an understanding in computer science to create their own mobile apps, games and websites! Join us in our immersive coding camps from beginner to advanced levels for 4 and above!
Prepare your child for greater success with Eye Level! Come find out about Eye Level at any of our Eye Level Learning Centres across Singapore during the June Holidays, and receive a free diagnostic assessment and trial class!
MindChamps Enrichment Programmes are designed to complement the curriculum of mainstream education institutions. Students will be imparted with innovative study techniques developed based on the latest scientific research, and they will be nurtured with the Champion Mindset to overcome learning adversities and achieve academic excellence.
The Yard specialises in providing Gymnastics, NinjaZone, Trampoline, Tumbling and Freestyle camps and programs for all age groups and ability levels. We strive to inspire fun, interactive and technique focused training environments. REGISTER NOW FOR OUR EARLY BIRD SPECIAL! NO REGISTRATION FEE!
Welcome Day is offered at 35 MindChamps Centres across Singapore. MindChamps have been voted #1 for 5 consecutive years. To express our appreciation, we are offering an exclusive promotion of up to $2,607 savings when you register.
Gallery Children's Biennale 2019: Embracing Wonder at National Gallery Singapore spreads the message of art as a way to discover and explore new worlds. This...
Global Art Singapore is a leading brand that helps accelerate your child's learning from as young as age 3 all the way through our programme.
A multi award-winning coding school, Coding Lab has a variety of courses for children of all ages.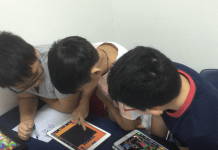 Looking for fun activities to do during the upcoming June school holidays? Choose from a host of exciting programs - popular Science programs, Robotics & Video-Game Creation workshops, there will be one that will suit the interests of your child!
A fun and immersive parkour and flips experience for kids to discover themselves through movement! Kids will learn fundamentals of learning parkour and flips the principles of training safely.