Events for 28 March 2019
Day Navigation
All Day
In presenting the first Minimalism-focused exhibition in Southeast Asia across two leading cultural institutions, visitors can expect a wide range of historical and contemporary works, immersive and site-specific installations, as well as interdisciplinary programmes from artists such as Mark Rothko, Carmen Herrera, Tatsuo Miyajima, Donald Judd, Anish Kapoor, Mary Miss, Olafur Eliasson, Margaret Leng Tan,
Find out more »
Ongoing
A collaboration between Sun Yat Sen Nanyang Memorial Hall and the Memorial Museum of 1911 Revolution in Guangzhou, Between the Lines – The Chinese Cartoon Revolution examines the links between the 1911 Revolution in China and the emergence of Chinese cartoons in Singapore.
Find out more »
+ Export Events
Search by:
All | Workshops | Holiday Programmes | Exhibitions | Theatre | Nature | Outings
Discover the joy of movement and fall in love with dance at da:ns festival's Footwork 2019 - introductory dance workshops for all ages.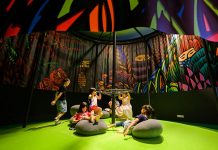 Gallery Children's Biennale 2019: Embracing Wonder at National Gallery Singapore spreads the message of art as a way to discover and explore new worlds. This...
Come explore I-Opener, Playeum's sixth hands-on exhibition athe Children's Centre for Creativity. Designed for children aged 1-12, I-Opener empowers all families to discover their creative potential and explore their senses through artful play.
Fantastic Mr Fox is a classic tale of goodies and baddies. It is an inspiring story about the brave and clever Mr Fox who, with the help of his family and friends, outsmarts three farmers' nasty schemes in order to provide food for the animal community.
Experience innovation this school holiday at KidZania Singapore with fun activities such as coding workshops, drone piloting, build your own electric circuit and many more!