It is said that a warm broth is enhanced by cold temperatures and Ice Magic, the winter playground at Bayfront Event Space seems to be clued in on that as it has teamed up with popular chain Haidilao Hot Pot to offer a guests a chance to enjoy hot pot in sub-zero temperatures.
---
Haidilao Hot Pot at Ice Magic
From 13 to 29 January 2023, Haidilao Hot Pot will be holding a pop up at Ice Magic. Hot pot offerings are available for groups of two, four and six. Guests can choose from either the Hi Magic Beef set or the Hi Magic Pork set. Each set also comes with ingredients such as their
signature prawn paste, sliced fish, chicken, vegetables platter and cheese tofu.
The Haidilao hot pot pop-up will only be available for dinner bookings, with two sessions (5 pm to 6.30 pm, 7 pm to 8.30 pm) daily.
Prices for the Haidilao hot pot pop-up are:
2 pax (bar seats) – $248
4 pax – $488
6 pax (exclusive dining tent) – $698
Included within each of the hot pot packages is entry to Ice Magic and all of its activities that guests can enjoy before or after their hot pot session.
It is a unique experience for those who want to experience the joys of a bubbling pot of soup in freezing temperatures.
Booking slots for the Haidilao pop up open on Friday, 13 January at SISTIC.com. A 10% early bird discount is available on 14 Jan (Sat) and 15 Jan (Sun).
---
Ski & Snowboard Lessons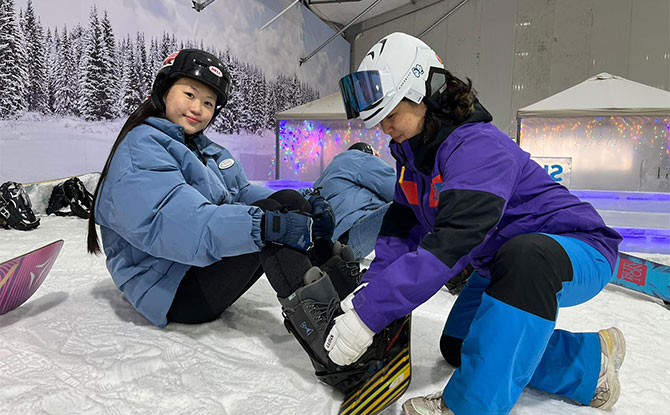 In addition, Ice Magic will also be introducing ski and snowboarding lessons led by experienced instructors from the Singapore Ski and Snowboard Academy.
Lessons will introduce the basics of skiing and snowboarding to those completely new to the sport, familiarise them with equipment and gear safety, and cover basic mobility, positioning and balance on the snowboard or skis.
Each lesson will run for an hour long and gear rental is included. Lessons start from $560 for a group of four. Students of all ages (4 years old to 80 years old) are welcome.
Ice Magic will also organise the inaugural Ski and Snowboard Championship in Singapore where winter sports enthusiasts from all over the island can gather to show off their skills on the slope. Co-hosted alongside Singapore Ski and Snowboard Academy, the competition will take place on Saturday, 21 January from 7 am to 12 noon.
Tickets to Ice Magic are available on SISTIC.com. Guests can book dinner slots for the Haidilao pop-up, and ski or snowboarding sessions on SISTIC.com from Friday, 13 January onwards.