From now until 2 Jan 2022, visit Fort Canning Park as it gets a festive twist for the holiday season. Enjoy the light-up every evening from 7 pm at Raffles Garden. A unique display for visitors to admire, this curated garden features plants relating to Raffles and his work on natural history in Southeast Asia. Here are some of the various displays and highlights to look out for.
---
Fort Canning Flagstaff Light Up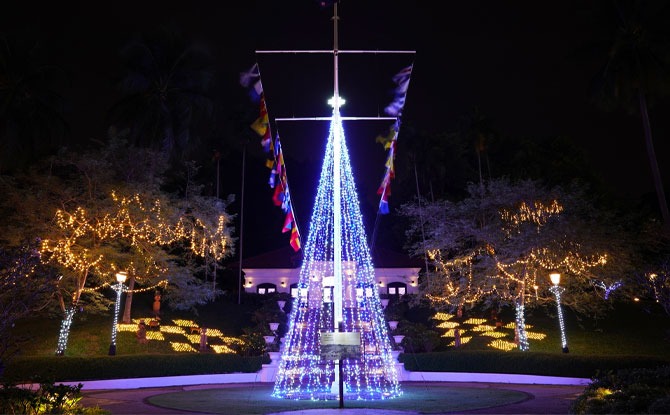 The signature Fort Canning Flagstaff was once an important communication landmark for the port at the Singapore River. This festive season, it has been transformed into a giant outdoor Christmas tree with the surrounding trees also lighted up making it an eye-catching highlight to see.
---
Raffles House Christmas Light Up
The interior of Raffles House has been decked with vertical overhanging lights into pinwheel and starburst patterns, creating the illusion of fireworks. It is supposed to represent a cosy fireplace in the middle of this space.
The space also features a colourful tableau that comprises of real plants and colourful fabric blocks surrounding a stainless-steel sculpture in the centre. The sculpture (Untitled, 2011) by Baet Yoke Kuan, presents an interpretation of changes in nature and in people's perceptions wrought by the passage of time. The curved reflective surface of the sculpture transforms also reflects the lights above into unique patterns.
---
-- Story continues below --
---
Wooden Snowmen at Reindeer at Fort Canning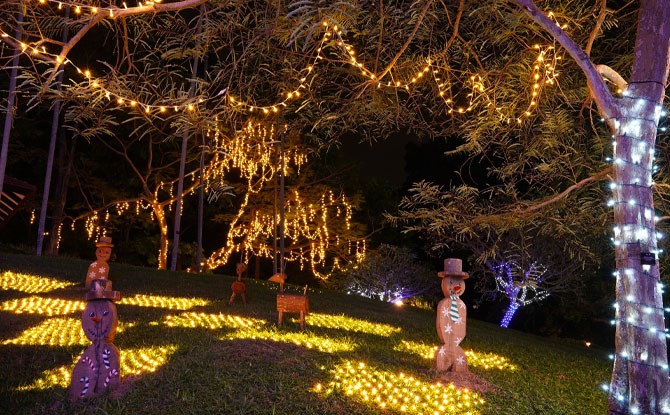 There won't be a white Christmas in Fort Canning Park, but there are cute wooden snowman and reindeer located around the park for visitors to admire. The trees around the area also have the trunks wrapped in Christmas lights.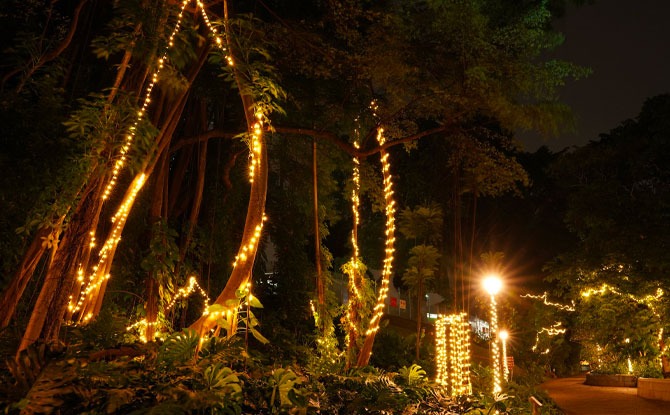 Get more updates on NPark's socials at the link here.