Reliving childhood memories together with your child is a really memorable experience. Don't be surprised to see your favourite childhood cartoon characters as you enter PLAY!, a newly renovated and revamped indoor playground at Changi Airport Terminal 3. PLAY! by Kinderplay is a sprawling 3,000 square feet playspace with five main play areas for the tiniest tots to gregarious 10 year olds.
We checked out the playspace, designed with some of Cartoon Network's most popular characters, and reminisced our childhood cartoon memories.
Huge Space at PLAY! by Kinderplay at T3
As you walk towards the themed indoor playground, you will notice several familiar characters – The Powerpuff Girls, Ben 10, Professor Utonium, Mojo Jojo and more. I got more excited than my little one, obviously trying my best to hide the fact that I used to be a huge Powerpuff Girl fan. (Who wasn't?)
All the wall visuals, colours of the different playspaces and elements were all in the colours of the well-loved cartoons. It was like stepping into the secret walls of Cartoon Network which unveiled a play paradise for kids.
PLAY! by Kinderplay consists of five main play areas: a bouncy minesweeper, a mega ball pit with slides and anti-gravitational wind machine, a ball blaster arena, bouncy balloons area and obstacle courses to exhaust the little kids to bits.
Children tired from playing can even watch the cartoons or play AR games Because of the large space, there was plenty of room for kids to move about and enjoy their personal space without fighting for toys or ride-ons.
The World of Bouncy Fun & Ball Pits
It was easy to spend hours at PLAY!'s indoor playground.
The massive ball pit was full of balls perfect for diving and sliding into. Plus, the ball blaster arena would keep the kids occupied trying to take aim at each other. The younger ones would definitely enjoy playing with the anti-gravitational wind machine to keep balls afloat or even throw balls at the interactive screen.
The ball theme continues in the bouncy balloons arena where fans blow the balloons which then circulate the space. Hitting them will cause the balloons to fly around. It adds a whole new dimension of fun to balloons which are well-loved toys.
Navigating PLAY!'s Mazes
For adventurous kids, there are a few obstacle courses to try.
One is the Ben 10 themed structure and the other is connected to the ball pit. Older ones would enjoy navigating the slightly darker Ben 10 obstacle course, through the tunnels or even hiding in it. Most would attempt the obstacle course at the ball pit, which has swinging elements, cushioned obstacles, climbing walls, climbing nets and so on.
The mazes are probably the best places to play hide and seek. Parents who are keen to wear their children out will be satisfied with the kinds of obstacles that will help knock the kids out.
Minesweeper and Ride-on Carousel at PLAY! Indoor Playground at Changi Airport T3
The inflatable section includes a bouncy slide right next to the inflatable minesweeper. This should be a popular choice as the kids try to avoid the minesweepers which could sweep them off their feet onto the bouncy pad. The speed and direction of the minesweeper can be adjusted to up the challenge. After trying the minesweeper, the kids would have great fun exiting through the slide.
At the other end nearer the ball pit is a manual ride-on carousel built in the shape of control tower with race cars as ride-ons. The adorable ride-ons are completely safe for the kids given that it has to be rotated manually.
The children can also pretend to be traffic controllers in the little control tower. My 5 year old had a good time filling the control tower up with balls and just sitting in the pit of balls.
Reminiscing The Powerpuff Girls & Relishing the Familiarity
It felt nostalgic stepping into PLAY! by KinderPlayand actually recognising the characters that were plastered on its walls. While my child has no clue who the characters were, I was so excited to tell him that those were my childhood cartoon favourites (not that it was of any significance to him).
I was glad to see Powerpuff cartoons playing, with different characters added to the plot. Since it has been decades (groan!) I have watched such cartoons, it's interesting how some things will never change. I look forward to the opportunity to play The Powerpuff Girls AR games after the official opening! Now why do I sound like a deprived kid?
Well-sanitised Indoor Playground Guaranteed to Bring Hours of Fun!
In case you were wondering, PLAY! conducts daily disinfecting of play systems, monthly sanitisation as well as temperature checks and hand sanitising for all staff and visitors. For more details, do check PLAY! on Facebook or Instagram.
PLAY! Indoor Playground
Where: Terminal 3, Changi Airport, Basement 2 (Previously SingKids Playsystem)
Admission Charges at PLAY!
Weekdays (4 Hours of Playtime)
2 to 12 Year olds: $21; Below 2 Years: $12
Weekends, PH, Eve of PH & School Holidays (1 Hour of Playtime)
2 to 12 Year olds: $25; Below 2 Years: $12
One adult enters free with each paying child, additional adults $6 per pax
Schools and Institutes of Higher Learning will implement full home-based learning from Wednesday, 8 April 2020, onwards. In addition, preschools and student care centres...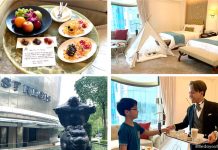 Right from the moment we arrived at The St. Regis Singapore, we were transported to a realm of old-world charm and graceful elegance. Beautiful...
FEATURED LISTINGS