With Covid-19 still a big worry, the mood everywhere is understandably subdued. Still, there are some events going on that will help bring about a spot of cheer and joy.
Till 22 Mar
The Artground
A new spin on the original The Curious Sky exhibition, this pushes children's imaginations to outer space with interactive installations like the Warping Wormhole and Rocky Planet. Learn more.
Till 29 Mar
9 am to 9 pm
Experience a small sample of the Amazon rainforest's incredible biodiversity at this exhibition, which brings in 50 orchid species from over 700 that are found there. More info.
Till 1 Mar
Esplanade Theatre Studio
Dance, laugh, sing and imagine with Fatimah, a little girl with a bright smile and dancing feet, in this theatrical delight about friendship, laughter and the power of magical socks! Details.
22 to 23 Feb
The Artground
Enjoy a variety of age-specific drop-in programmes for little ones and parents, including storytelling, theatre and even an interactive search party for an alien! Find out more.
Till 23 Feb
National Stadium
Activities like mass workouts and the Blaster Battle have been cancelled, but there are others programmes to enjoy including sports try-outs, family obstacle courses and inflatables. Learn more.
Schools and Institutes of Higher Learning will implement full home-based learning from Wednesday, 8 April 2020, onwards. In addition, preschools and student care centres...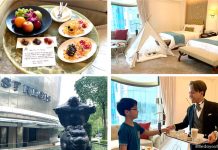 Right from the moment we arrived at The St. Regis Singapore, we were transported to a realm of old-world charm and graceful elegance. Beautiful...
FEATURED LISTINGS