Due to the novel coronavirus (2019-nCoV) situation in Singapore, Marina Bay Sands announced on Saturday, 8 February 2020 that the nightly light and water show, Spectra, will be suspended until further notice.
Spectra is a free-to-public, 15 minutes outdoor light and water show which takes place at the Event Plaza. It is normally held from Sunday to Thursdays at 8 pm and 9 pm. On Fridays and Saturdays, the show times are normally 8 pm, 9 pm & 10 pm.
Spectra, Marina Bay Sands Light Show Suspended
The announcement of the Marina Bay Sands Light Show being suspended can be found on the Marina Bay Sands website.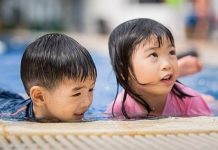 We often hear from parents that swimming is just one of the many activities their child takes part in after school. Which is great!...
Most of us are familiar with the iconic dragon playground at Toa Payoh, and perhaps even the one at Ang Mo Kio. However, fewer...
FEATURED LISTINGS