Now it is one of the largest Soya Sauce factory in Singapore, we pay a visit to Nanyang Sauce Factory and have a chat with Jenny Lee from Nanyang Sauce to learn a bit more about this key ingredient in so many of our local dishes and how a coolie and his porridge became the well known and loved brand that it is today. You can also read more about Nanyang Sauce in our write up here.
Click here to subscribe to our YouTube channel and to see more great videos!
Think of South Korea and K-Pop superstars, delicious cuisine and snowy ski slopes are some of the images that come to mind. For families,...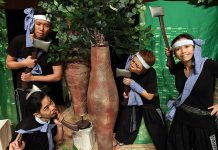 The March school holidays 2020 in Singapore take place from 14 to 22 March 2020. And with such an eventful Term 1, we believe...
FEATURED LISTINGS