It's the start of yet another New Year in the Chinese calendar! Try these three easy crafts that will be sure to add that splash of red to the house and brighten up the home just in time for New Year visitations!
In this tutorial we cover:
1. Chinese Paper Fan
2. Chinese Paper Lantern
3. Paper Firecracker
Be sure to tag us in our socials if you happen to try any of these and let us know which one you liked the most! Happy Chinese New Year to all! 新年快樂!
Click here to subscribe to our YouTube channel and to see more great videos!
Facebook: https://www.facebook.com/littledayout.sg
Instagram: https://www.instagram.com/littledayout
More Stories on Chinese New Year: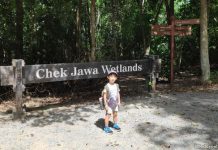 It was such a treat to be enjoying tranquility on a visit to Chek Jawa on Pulau Ubin on a boardwalk tour. Nature walks...
Think of South Korea and K-Pop superstars, delicious cuisine and snowy ski slopes are some of the images that come to mind. For families,...
FEATURED LISTINGS