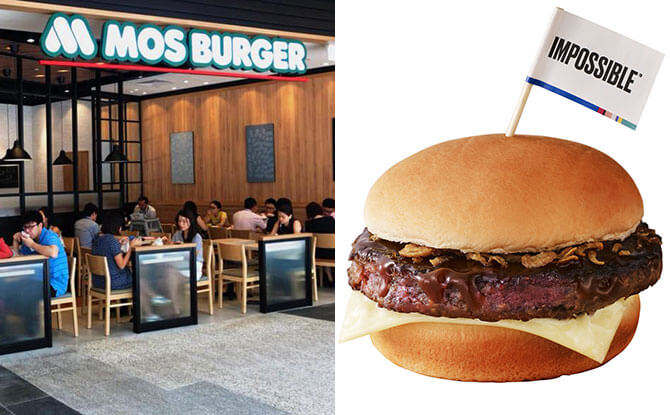 Been thinking of trying the plant-based Impossible Burger? Now, it is even easier with the launch of the MOS Impossible Burger on 9 December 2019, available at outlets all over Singapore for a limited time only, while stocks last.
MOS Impossible Burger in Singapore
The MOS Impossible  Burger will be introduced at all 38 MOS Burger and MOS café outlets in Singapore at $6.95 a la carte. The burger features an Impossible plant-based patty, sliced cheese, fried onions and a BBQ glaze, all sandwiched between two fluffy buns.
According to the MOS Burger Singapore website, "the MOS Impossible patty contains the same amount of protein as ground beef, more iron, and 0mg cholesterol."
"We are very excited to introduce the Impossible Burger at one of Asia's largest and most popular fast food restaurants. The price point of the Impossible MOS Burger is very accessible, which means our plant-based meat can be enjoyed by even more people across the country. We've had a successful eight months since our launch in Singapore and we look forward to continuing to offer our customers new ways to try Impossible in 2020," said Jordan Sadowsky, Director of Global Expansion at Impossible Foods.
---
Story continues below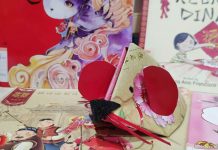 Dong dong chang! Right on the heels of Christmas is another important season for the Chinese – the Lunar New Year, of course. Remembering...
What better a way to scurry into the New Year of the Rat than with a new year feast at Fat Chap! Priding themselves...
---
"After seeing the amazing response to the Impossible Burger all across Singapore, we were eager to put our chefs to work creating the Impossible MOS Burger," said Mr Kazuya Inukai- CEO of MOS Foods Singapore. "As a brand, we believe in and support Impossible's mission to transform the global food system, and we recognise that there is increasing customer demand for delicious plant-based meat. We are excited to kick off this new partnership and are confident that the Impossible MOS Burger will delight our customers – new and old."
The Impossible Burger was first launched in Singapore in March 2019 at food & beverage establishment such as Omakase Burger and Potato Head Folk.
Singapore's shores are teeming with wildlife we wouldn't usually notice. Getting to an intertidal zone during periods of low tide is the best way...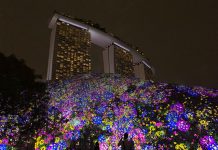 Future Together at Gardens by the Bay, a digital art exhibition, caps off the Singapore Bicentennial commemorations with interactive installations that encapsulate the hope...
FEATURED LISTINGS