Anime, cosplay, gaming, and anisong comes to fans in Singapore from 29 November to 1 December 2019 at C3 AFA Singapore 2019. South East Asia's biggest Japanese Pop Culture event is being held at Suntec Singapore Convention and Exhibition Centre with the theme "AFA Airways".
C3 Anime Festival Asia Singapore 2019 features zones on gaming, film and competitions, providing anime and Japanese pop culture fans with content and experiences direct from Japan.
Here are some of the highlights at the three-day festival.
Exhibition with Themed Booths
There is much to see at the exhibition area for the J-culture fan. Browse through booths selling merchandise including t-shirts, prints, pins and more. Also check out the Akiba Stage for performances.
Creators Hub
---
Story continues below
Parenting is a 24/7 job. You can't apply for leave. But for your sanity's sake, you're allowed to sneak out for a little break...
Hear that? That's the sound of children all over Singapore are rejoicing! It is the end of the school year and the six-week holiday...
---
This dedicated area is filled with booths selling fan-made merchandise including art prints, t-shirts, enamel pins and more by budding artists.
Naruto x Boruto: Ninja Selection Exam Escape Room
This is an escape room game based on the iconic ninja exam featured in the Naruto x Boruto anime. The game is available for the first time in Asia.
AFA PLAY
Have fun at AFA PLAY, the dedicated zone at C3 Anime Festival Asia Singapore 2019 for anime and game lovers! Try hands-on gaming activities in both the digital and analogue realms!
BANDAI NAMCO Entertainment Booth
Get hands-on at the BANDAI NAMCO Entertainment exhibit where there are a series of demos for their upcoming video game releases. You can also look at the latest Gunpla and plastic model kits from various anime titles.
Matsuri-themed Food Street
The Food Street at C3 Anime Festival Asia Singapore 2019 has more than 10 stores.
These include SUPER IPPUDO, Renga-ya, Sinful Cold Soba and Tiger Sugar.
Day Stage
At the Day Stage, enjoy special anime screenings, talk shows and guest appearances. Amongst those taking to the stage are anime directors and producers, celebrity cosplayers, voice actors and actresses.
I Love Anisong 2019
The Anime Music Festival features nine hours of concerts by 12 A-List artiste and artiste groups belting out anime music acts. Look out for anisong artistes like Ayaka Ohashi, Azusa Tadokoro, BLUE ENCOUNT, fhána, JUNNA, Maaya Uchida, MYTH & ROID, ReoNa, SCANDAL and TRUE!
AFA Film Festival
Anime Movie Screenings at AFA Film Festival is being held in conjunction with #C3AFASG19. The film festival takes place at Suntec Convention and Exhibition Centre Level 3 during the #C3AFASG19 weekend. Tickets for the film festival are sold separately.
#C3AFASG19 is a ticketed event. Tickets start from $15 for exhibition access. VIP and I Love Anisong tickets can be purchased separately.
C3 AFA Singapore 2019
Where: Suntec City Convention and Exhibition Centre (Levels 3 & 4)
When: 29 Nov to 1 Dec 2019, 10 am to 8 pm
This Sunday, 8 December 2019, Ben & Jerry's will be handing out free ice cream in support of International Migrant Workers' Day in mid-December....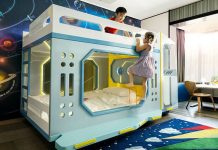 Celebrate the holiday season with a year-end 2019 staycation amidst a lush landscape and specially-themed suites, or stay in the heart of Singapore's first...
FEATURED LISTINGS