Enjoy a dazzling light show, experience snow in the tropics, meet your favourite Frozen characters and embark on an obstacle course in an enchanted forest. Drop by Changi Airport for an unforgettable winter adventure!
Read more here!
Subscribe to be the first to catch all our other videos: https://www.youtube.com/littledayoutsg
Guess who is heralding Christmas at Bedok Point this year – the Minions! Join Kevin, Stuart and Bob from 19 to 24 November for...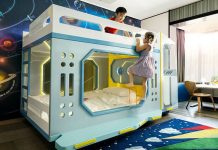 Celebrate the holiday season with a year-end 2019 staycation amidst a lush landscape and specially-themed suites, or stay in the heart of Singapore's first...
FEATURED LISTINGS