Cyclist Park is a new cycling destination at East Coast Park for those who wish to test their skills or simple take a break from pedalling away under the hot sun. The hub has two different circuits for cyclists of different skill levels, a nature playgarden that young kids can enjoy and amenities such as F&B outlets and retail stores.
Cyclist Park Learner Circuit – For Beginners
On the eastern end of Cyclist Park is a 280-metre-long Learner Circuit. With wide paths and gentle slopes, it is designed to allow beginner cyclists to practise their skills and gain newfound confidence.
It includes basic challenges like a narrowing of the track and gentle slopes. A contoured section allows beginners to practise their skills on slopes.
Advanced Circuit
At the other side of Cyclist Park is the Advanced Circuit.
Here, cyclists will encounter more challenging terrain and obstacles, including zigzag columns, a pump track and narrow bridge.
The 500 metre track also features sharper twists, turns and narrow paths for cyclists to maneuver around.
Nature Playgarden
Cyclist Park is home to a 500-square-metre nature playgarden. Here, kids can explore log features and boulders, encouraging them to get in touch with nature.
Related:
Simple fun with nature for kids at Cyclist Park Nature Playgarden
Other Facilities
Visitors to Cyclist Park along East Coast Road will also find a 7-Eleven convenience store (which sells beer on tap). The outlet even has an outdoor seating area where customers can sit down to enjoy their refreshments.
Eateries at Cyclist Park are P.S. Cafe by the Sea (opening 26 Nov) and the halal KNS restaurant.
A bike retail store, khcycle caters to bicycle servicing needs.
Perhaps the only facility lacking at Cyclist Park is a bike rental service. The closest East Coast Park bike rental service is at Raintree Cove at Area C. Alternatively, the next closest bike rental kiosk is at Lagoon Food Centre at Area E.
Getting to Cyclist Park at East Coast Park
Cyclist Park can be found at Area D, opposite Mandarin Gardens. It occupies the site of the former UDMC/Goldkist Chalets. It is one of the active nodes along the Round Island Route. The closest car parks are D3 and D4.
Read:
Simple fun with nature for kids at Cyclist Park Nature Playgarden
Where to rent bikes at East Coast Park
The forgotten bike course at West Coast Park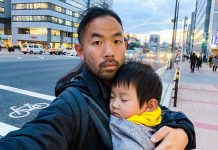 Few can boast of summiting Mount Everest, but Stefen Chow, father of two can.Now a filmmaker and photographer, Stefan is known for his solo...
Looking for some family-friendly movies to watch for movie nights? Here is a list of some fun and heartwarming family movies that everyone in...
FEATURED LISTINGS