Every year, Campbell Lane turns into a colourful hive of activity in the lead up to Deepavali. This year is no different and the Deepavali Festival Village 2019 brings along with it plenty of buzz and energy.
Market stalls line the lane next to the Indian Heritage Centre. This covered bazaar holds festive decorations, apparel and cookies for sale.
Colourful Sights
There are ornamental decorations which provide bursts of colours.
One of our favourite spots at the Deepavali Festival Village 2019 is a narrow section of passageway where glittery ornaments hang down from the ceiling. Even though it can get crowded, that only adds to the festive atmosphere.
---
Story continues below
The Boys' Brigade Share-a-Gift (BBSG) 2019 project aims to spread the festive cheer and love to 43,276 beneficiaries this year. Beyond that simply the...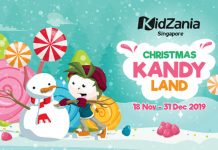 Reward your kids with the ultimate sweet treat and bring them to KidZania Singapore as it transforms into Christmas Kandy Land from 18 November...
---
There are also stalls selling traditional sweets.
Alternatively, get a bottle of festive cookies to bring home and enjoy.
Even though the Deepavali Festival Village 2019 is rather small, it is always a joy to visit.
This year, in addition to the stalls at Campbell Lane, there is also a Deepavali Hipster Bazaar at the field beside Tekka Lane.
Deepavali Festival Village 2019
Where: Campbell Lane
When: Now on till 26 October 2019, 10 am to 10 pm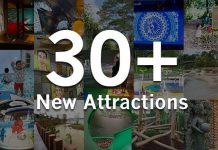 2019 has been a busy year. Can you believe that 33 new family-friendly places and attractions have opened in Singapore in just this year...
Popular Bookstore is a household name and, from 6 to 15 December, the Popular BookFest 2019 Singapore at Suntec Convention Centre Level 4 is...
FEATURED LISTINGS