This weekend, pick up interesting knowledge and important life lessons in the best way possible – through memorable interactive programmes that deliver loads of fun!
24 Sept to 10 Oct
KidsSTOP, Science Centre Singapore
---
Story continues below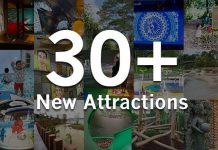 2019 has been a busy year. Can you believe that 33 new family-friendly places and attractions have opened in Singapore in just this year...
The Boys' Brigade Share-a-Gift (BBSG) 2019 project aims to spread the festive cheer and love to 43,276 beneficiaries this year. Beyond that simply the...
---
Enjoy this immersive and educational theatre production by the Singapore Repertory Theatre, where audiences engage in STEM-learning while on a mission to rescue KidsSTOP's 'catnapped' feline, Madame Curie. Details.
27 to 29 Sept
SOTA Drama Theatre
Don't miss this charming, music-filled stage adaptation of Oliver Jeffers' bestselling book about a little boy and a Martian who have to find their way home from the moon. Find out more.
27 Sept to 28 Oct, 9 am to 9 pm
Flower Dome, Gardens by the Bay
Head to the Gardens' first-ever exhibition of rhododendrons, whose big, bright blooms make them among the most eye-catching and beautiful shrubs around. More info.
28 Sept, 1 pm to 5 pm
Asian Civilisations Museum
Get the ball rolling on your Children's Day celebrations here, with an interactive drama about how various Southeast Asian cultures mark the occasion, a gallery trail and craft activities. Learn more.
28 Sept, 6 pm to 7:30 pm
Singapore Botanic Gardens
Spot Pocket Opera Theatre returns with its third edition of this annual concert featuring local instrumentalists and classical vocalists such as sopranos Charmaine Tan, Evelyn Ang and tenor Jeremy Koh. Details.
29 Sept, 10 am to 3 pm
RDA Centre
Head down for a fun day of pony and tractor rides, games, crafts and more. At the same time, you'll be helping to raise funds for the RDA which provides therapeutic horse-riding programmes for persons with disabilities. More info.
28 Sept, 9:30 am to 2:30 pm
PAssion WaVe @ East Coast
Try out all kinds of activities from sensory craft to inclusive water sports at this fab outing where there's something for everyone to enjoy. Find out more.
Till 31 Oct
Universal Studios Singapore
Celebrate Halloween the sunny, fuzzy way at Universal Studios, featuring meet-and-greets with adorably dressed characters, a Sesame Street Trick or Treat show and carnival games. Learn more.
Till 29 Sept
Esplanade
Whether you're a long-time enthusiast or just looking to enjoy some twinkle-toed fun with the family, hurry and sign up for a da:ns festival workshop before the run ends this weekend! Details.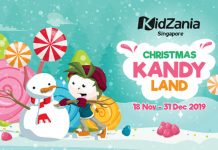 Reward your kids with the ultimate sweet treat and bring them to KidZania Singapore as it transforms into Christmas Kandy Land from 18 November...
The Boys' Brigade Share-a-Gift 2019 project started off on Saturday, 7 December, with 350 volunteers heading out to deliver food hampers to beneficiaries around...
FEATURED LISTINGS