An Old New World allows you to travel back in time to the 200 years before 1819. With many interactive exhibits to learn from, drop by the National Museum for this interesting take on Singapore's history. Read more about this exhibit here.
Click here to subscribe to our YouTube channel and to see more great videos!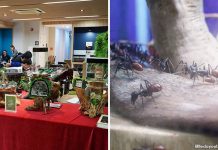 After a visit to the Singapore Ants Exhibition, you may never be able to look at the ants crawling around your home in the...
Planning ahead for the November and December 2019 school holidays in Singapore? The year-end break is a wonderful opportunity for kids to try something...
FEATURED LISTINGS