Many moons ago, Chinese Gardens was our go-to place when the Mid-Autumn Festival came around. Therefore, we were excited to see that there would be Mid-Autumn Festival celebrations at Jurong Lake Gardens, complete with lanterns and festive activities, taking place from 6 to 15 September 2019.
Just in time for the September school holidays 2019, the Mid-Autumn Festival at Jurong Lake Gardens is less expansive than its bigger cousin at Gardens by the Bay. On the plus side, we enjoyed the thinner crowds at Jurong Lake Gardens while out on an enjoyable stroll amidst the lanterns.
Here are some of the highlights you can look forward to in the evenings at the park.
Lanterns at Jurong Lake Gardens
The lanterns at Jurong Lake Gardens light up the northern end of Lakeside Gardens.
---
Story continues below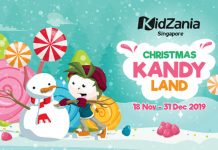 Reward your kids with the ultimate sweet treat and bring them to KidZania Singapore as it transforms into Christmas Kandy Land from 18 November...
Can learning about Asian culture be an exciting experience for kids? You bet! From now till 29 December, little ones can take part in...
---
Next to the North Carpark, at The Canyon, the popular Chinese folktale Journey to the West is depicted in lanterns.
Not far away, along the fringe of Lakeside Field, are lantern sets based on the theme Sights & Sounds of Singapore. These shows scenes based on the customs and traditions of the different races in Singapore.
We particularly like the way everyone comes together around the iconic Dragon Playground.
A series of LED light installations line the footpath that runs alongside Forest Ramble towards the Dog Run.
At the far end of the light sculptures is another lantern set, Nature Wonderland.
Various land and sea animals posed for a wildlife photo op.
The lantern displays at Jurong Lake Gardens will be turned on in the evening till 11 pm.
Take note that if you intend to bring your own lanterns for a lantern walk at Jurong Lake Gardens, only battery-operated lanterns are allowed in the Gardens.
Evening Performances
In the cool of the evening, enjoy performances around Jurong Lake Gardens from 8 pm onwards.
The Amphitheatre beside Fusion Spoon will be the setting for Moon Musings by Arts Fission. This half-hour lunar-themed dance performance makes references to this year's 50th anniversary of the moon landing.
Over at Wave Plaza, there will be performances at 8 pm and 9 pm every evening from 6 to 15 September 2019. Muscial groups such as Flame of the Forest, Dicapella Dizi Ensemble and Stringanza, will be there to entertain the crowds. There will also be Mid-Autumn Storytelling with Live Illustration & Erhu Performances by Llien Drama Society.
Workshops
On the weekends of 7, 8, 13 and 14 September 2019, workshops will be conducted at PAssionWaVe @ Jurong Lake Gardens.
Try dragon boating, Zumba or learn how to make mooncakes and upcycled lanterns. Get more details on what is in store here.
Food Village
Hungry after walking around? Stop by a Food Village outside Forest Ramble, Jurong Lake Garden's children's playground (which opens till 10 pm on Tuesdays to Sundays).
Sunset Tours
From 7 to 15 September 2019, join a sunset tour of Jurong Lake Gardens to explore the flora found around the gardens. The Sunset Tour starts from 6.30 pm and registration is required. Register here.
Mid-Autumn Festival 2019 at Jurong Lake Gardens
When: 6 to 15 September 2019, 6 pm to 11 pm
Where: Lakeside Garden, Jurong Lake Gardens
Website
Singapore's shores are teeming with wildlife we wouldn't usually notice. Getting to an intertidal zone during periods of low tide is the best way...
Guess who is heralding Christmas at Bedok Point this year – the Minions! Join Kevin, Stuart and Bob from 19 to 24 November for...
FEATURED LISTINGS