We love public holidays, school holidays and especially long weekends! The Ministry of Education announced the School Terms and School Holidays on 13 August 2019 and we're pleased to bring you our beloved Little Day Out calendar for 2020.
With all the school holidays and public holidays for 2020 in one handy downloadable calendar and a shareable Long Weekend planner, you can strategise ahead for more great little days out!
Of the 11 gazetted public holidays in 2020, four fall on a Friday and three on a Sunday, making it a bumper crop of seven long weekends in Singapore in 2020!
Your long weekends will take place during the following public holidays – Chinese New Year (January), Good Friday (April), Labour Day (May), Hari Raya Puasa (May), Hari Raya Haji (July/August), National Day (August), and Christmas (December).
---
Story continues below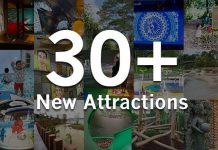 2019 has been a busy year. Can you believe that 33 new family-friendly places and attractions have opened in Singapore in just this year...
Let it snow, let it snow, let it snow in Singapore 2019. Dreaming of a white Christmas in tropical Singapore? Well, you can have...
---
Take a day's leave on Fridays after Vesak Day on 7 May and before Deepavali on 14 November, and you can get two more long weekends!
To stretch your long weekend into four long days, simply take one day's leave before or after Chinese New Year, 25 to 26 January, weekend.
2020 Long Weekends in Singapore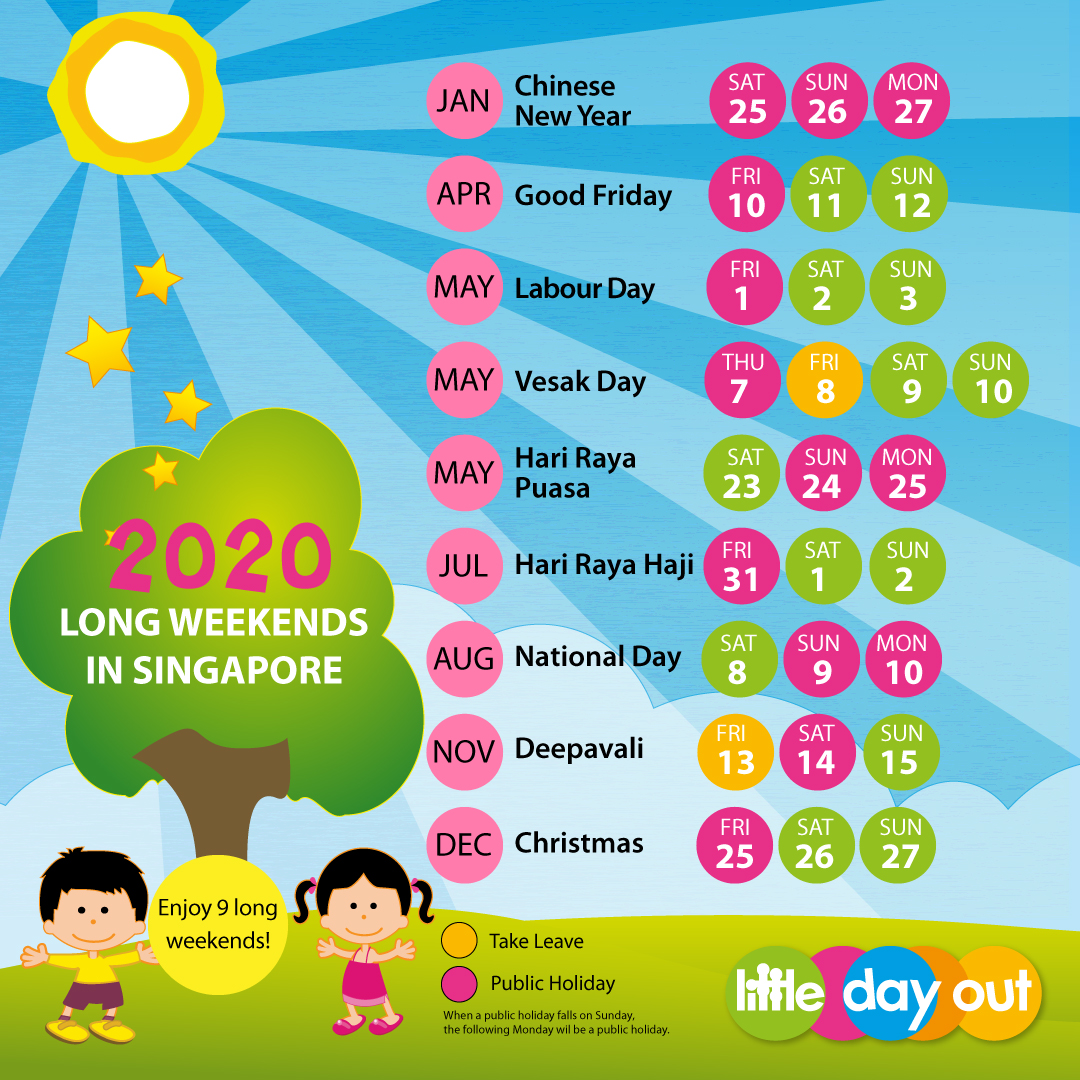 Share this infographic which sums up the long weekends you can enjoy with your family and friends!
Singapore Public & School Holidays Calendar 2020
Download Little Day Out's Free 2020 Yearly e-Calendar (PDF) that marks out the public holidays and long weekends, as well as school holidays for primary and secondary schools in 2020!
Singapore Public Holidays 2020
New Year's Day Wednesday, 1 January 2020
Chinese New Year Saturday and Sunday, 25 & 26 January 2020*
Good Friday Friday, 10 April 2020
Labour Day Friday, 1 May 2020
Vesak Day Thursday, 7 May 2020
Hari Raya Puasa Sunday, 24 May 2020*
Hari Raya Haji Friday, 31 July 2020
National Day Sunday, 9 August 2020*
Deepavali Saturday, 14 November 2020
Christmas Day Friday, 25 December 2020
*The following Monday will be a public holiday.
Source: Singapore Public Holidays 2020 released by the Ministry of Manpower on 8 April 2019.
Singapore School Holidays for 2020
The school year for 2020 for all MOE primary and secondary schools will start from Tuesday, 2 January and end on Friday, 20 November 2020.
The three scheduled school holidays in 2020 are:
Youth Day Sunday*, 5 July 2020
Teachers' Day Friday, 4 September 2020
Children's Day Friday**, 9 October 2020
* The following Monday, 6 July 2020, is a scheduled school holiday.
** For primary schools & primary sections of full schools only.
Singapore School Term Holidays 2020
After Term 1 Saturday, 14 March to Sunday, 22 March 2020
After Term 2 Saturday, 30 May to Sunday, 28 June 2020
After Term 3 Saturday, 5 September to Sunday, 13 September 2020
After Term 4 Saturday, 21 November to Thursday, 31 December 2020
Note: International school term holidays may differ. Please check with your child's school.
This year-end 2019 season, Frozen at Changi Airport is a treat for fans of Disney's latest movie. For those who are planning to make...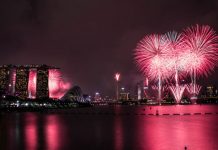 Have you got your New Year's Eve and New Year's Day 2020 plans all sorted? Another year (and decade) is soon gone, and we...
FEATURED LISTINGS