Looking for something fun to do over the National Day 2019 long weekend with the family? Head down to KidZania Singapore where kids can not only enjoy the many role-playing activities but also special National Day-themed activities. Here are some of the activity highlights!
National Day 2019 Weekend Fun at KidZania Singapore
---
Scroll to the bottom to participate in our Giveaway!
---
KPopX Kids in collaboration with ActiveSG
Get moving to the infectious beat of KPop hits at KidZania Singapore's Main Square. In collaboration with ActiveSG, the high energy workout will get kids powered up and adults are welcomed to join in the fun too!
The family that exercises together stays fit together!
Be sure to pre-register for one of the four sessions and receive a special premium to take home!
Dates: 8 to 10 August 2019
Time: 11 am, 11.15 am, 11.30 am and 11.45 am
Venue: Main Square
---
GetActive! City Clock Performance
One of the role-playing activities that kids absolutely love at KidZania Singapore is performing at the City Clock. This is a chance for them to shine in the limelight and dazzle an audience.
Specially for this National Day weekend, a new sporty dance routine will be rolled out for the City Clock performance. Kids can put their best foot forward and rev it up in a sports-inspired fitness routine to impress the crowd.
Dates: 8 to 12 August 2019
Times: 12 pm, 2 pm and 4 pm
Venue: City Clock
Story continues below...
---
---
Story continues...
---
Make a National Day-themed Parachute Craft
The elite Red Lions parachute team is a hot favourite at National Day Parades. Kids will now be able to make their very own National Day-themed parachutes at KidZania Singapore during the long weekend. Launch the parachutes into the air and watch as they float down gracefully, just like Singapore's daredevil parachutists.
Dates: 8 to 12 August 2019
Venue: Main Square
---
Get a Bonus Payoff at "Local" Role-play Establishments
KidZania Singapore's City, just like the rest of the Lion City, is marking Singapore's 54th birthday with some National Day promos.
Kids who participate in establishments that are associated with home-grown brands will either receive or save 2 extra kidZos, the currency used within KidZania Singapore.
Be a surgeon at the Hospital, turn into an adventurer at the Mountaineering School or learn how traditional BBQ meat is prepared at the Traditional BBQ Meat Store within KidZania Singapore. These are just some of the role-playing establishments supported by local brands where kids will earn additional kidZos when they complete the activity.
It pays to go local!
Dates: 8 to 12 August 2019
Venue: Establishments in the City associated with home-grown brands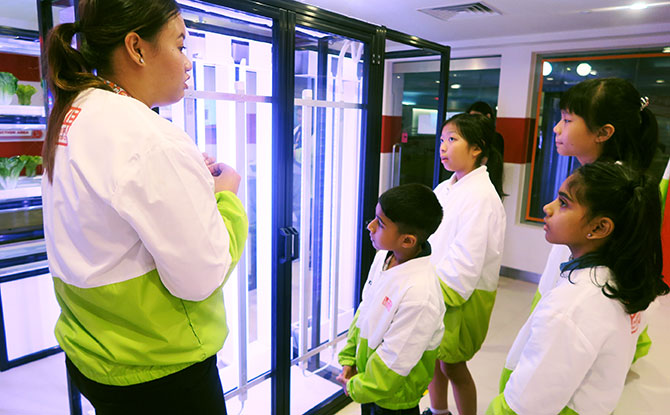 While you are at it, be sure to check out the latest addition to the City – the Urban Farm, supported by Singapore Food Agency. This establishment lets kids learn how modern technology is being used in indoor and urban farming! 
---
Special Promotions in August at KidZania Singapore
As if you need further reasons to visit KidZania Singapore this August, here are two more.
Bicentennial Promo
To celebrate the 200 years that have passed since Raffles' landing, kids will receive  a total of 200 kidZos (170 in notes and 30 in the debit card) with every usual-priced Kid Ticket purchased over the counter and online at KidZania Singapore Ticketing between 1 and 30 August 2019.
That's a neat little boost to their KidZania bank accounts to get them started in their careers around the City!
Merdeka Promo
Turn a visit to KidZania Singapore into a family affair with the Merdeka promo.
In the month of August, seniors aged 60 years old and above, will get to enjoy 50% off their admission ticket with every usual-priced Kid ticket purchased. This promotion only applies to tickets purchased over the counter and online at KidZania Singapore.
---
Little Day Out Exclusive
Flash this article at the KidZania Singapore Ticketing Counters and receive an exclusive gift! Valid from 1 to 30 Aug 2019.
---
Pay a Visit to KidZania Singapore over the National Day Long Weekend 2019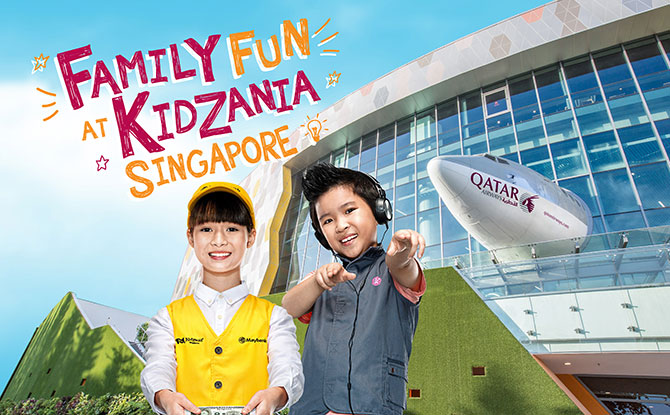 This National Day 2019 long weekend is the perfect opportunity to bring the kids down for an educational, fun time at KidZania Singapore.
This feature is brought to you by KidZania Singapore.
---
GIVEAWAY: Win a Family Bundle set of 2 Adult and 2 Kid Tickets
(total worth $194) to KidZania Singapore!
Little Day Out is giving away:
a Family Bundle set of 2 Adult and 2 Kid Tickets to KidZania Singapore!
---
This contest has closed. Watch this space where we will be announcing the winners!
---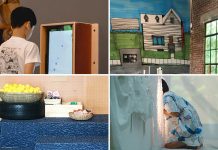 Did you know that your child is innately creative and competent? Born with reservoirs of creativity? Whatever life your child chooses, he/she has the power...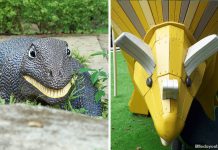 Surrounded by residential apartment blocks, Fu Shan Garden at Woodlands is a typical neighbourhood park, except that it holds a menagerie of dinosaurs, lurking...
FEATURED LISTINGS