Episode 5 of our "Let's Play" YouTube series on playgrounds in Singapore, we visit Marine Cove Playground with its bright red, eight-metre tall play tower, huge long silver slides and a whole lot of other fun equipment and play areas. It is a great spot to visit the next time you are near East Coast!
Watch the Marine Cove Playground video above and read more about Marine Cove Playground here.
Click here to subscribe to our YouTube channel and to see more great videos!
Changi Airport offers something for everyone at three installations and activity zones in September 2019. All ready for the September school holidays 2019, the...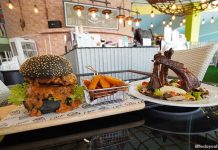 Most people head to the pool to get in some exercise or to have a soak. One day, we paid a visit to the Sengkang...
FEATURED LISTINGS