UNIQLO's own T-Shirt printing service, UTme!, is back in Singapore.
Exclusively available at the Orchard Central Global Flagship Store, UNIQLO's UTme! allows customers to express their creativity and customise their own UT shirts.
Design & Print Your Custom T-shirt at UNIQLO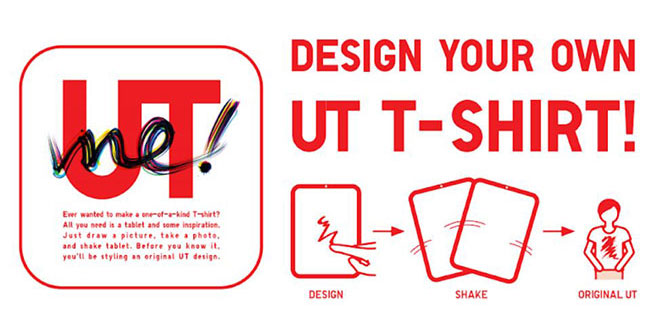 Customers can make use of tablets available in the store fabricate their own one-of-a-kind t-shirt design. This includes "painting" within the app, inserting texts or photographs, or applying themed stickers that are available in the app to create their unique T-shirts.
Stickers available in the sticker album include characters from Disney, Snoopy and local artists.
Once customers have submitted their designs using the tablets, the t-shirts will be printed in approximately 15 minutes once payment has been made.
The designs are printed on 100% cotton t-shirts using inkjet technology.
The length of the printing is also dependent on the complexity of the design and the length of the queue.
UTme! in Singapore
Adult-size t-shirts cost $29.90 while child-size t-shirts cost $24.90.
The UNIQLO UTme! booth is located at level 3 of the Orchard Central Global Flagship Store.
Get more information here.
You must have watched or heard of the game show "A Minute to Win it" by now. Watching the participants complete hair-raising challenges under...
If you are wondering "where to eat" at Great World City, which has been rebranded as Great World, we've got some suggestions for you!...
FEATURED LISTINGS