We had a chat with Chelsea Wan from the Jurong Frog Farm where she shared with us a little more about the frogs on the farm, the learning journey 'Frog Quest', and even some tips on how to get over one's fear of frogs!
To read out the article covering the ribbiting good time we had, click here.
Click here to subscribe to our YouTube channel and to see more great videos!
So baby's arrival date is closing in and you're working your way down your checklist of preparations. Your eyes review the StemCord pamphlet you...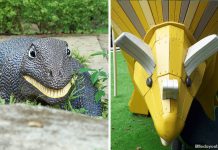 Surrounded by residential apartment blocks, Fu Shan Garden at Woodlands is a typical neighbourhood park, except that it holds a menagerie of dinosaurs, lurking...
FEATURED LISTINGS