We had a chat with Chelsea Wan from the Jurong Frog Farm where she shared with us a little more about the frogs on the farm, the learning journey 'Frog Quest', and even some tips on how to get over one's fear of frogs!
To read out the article covering the ribbiting good time we had, click here.
Click here to subscribe to our YouTube channel and to see more great videos!
Meet Playpoint's Playground designer, Aryen Liaw. Her job involves coming up with creative concepts, researching playground equipment and creating fun and safe spaces to...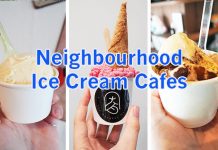 There's an undeniable charm about neighbourhood cafes located under HDB blocks. Sometimes instead of the glitz and glam of  an "instagramable café", we might...
FEATURED LISTINGS