The Changi Experience Studio allows you to go behind the scenes of what goes behind keeping our airport up and running. It's no ordinary tour – there are more than 20 touchpoints laid out across 10 zones at Changi Experience Studio.
Read more about Changi Experience Studio here.
Click here to subscribe to our YouTube channel and to see more great videos!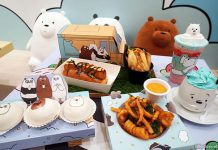 Grizzly, Panda and Ice Bear! Calling all fans of these three beloved bears from the popular Animated Series 'We Bare Bears'! You'll be thrilled...
West is best and we have the biggest bouncy playground to prove it. Bouncy Paradise which was last seen with its pop-up at PeopleUp@Pandan....
FEATURED LISTINGS