Pink Fish's first international outlet makes its splash in Jewel, and breaks the status quo of fast food being unhealthy with their variety of burgers, wraps, salads and soups!
Watch the video above and read more about Pink Fish At Jewel Changi Airport.
Click here to subscribe to our YouTube channel and to see more great videos!
How does exposing your preschooler to Science, Zumba, Chess, Coding, Engineering, Sports, Yoga, Theatre, and Music, all at one venue sound? If you are...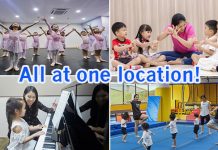 SAFRA Punggol is the ideal destination for families to have fun and unwind. It is not only home to awesome recreational facilities, but also...
FEATURED LISTINGS