Pink Fish's first international outlet makes its splash in Jewel, and breaks the status quo of fast food being unhealthy with their variety of burgers, wraps, salads and soups!
Watch the video above and read more about Pink Fish At Jewel Changi Airport.
Click here to subscribe to our YouTube channel and to see more great videos!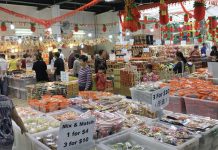 Want to know where to get superb CNY bargains? We uncover where the aunties shop for their festive goodies! Don't let the distance deter...
No visit to Seoul with the family is complete without a visit to South Korea's biggest theme park: Everland! We had an awesome day...
FEATURED LISTINGS