Continuing our "Let's Play" YouTube series on playgrounds in Singapore, we visit the playground at Tiong Bahru Park Playground. With a theme of the wild west and a train that's about to go out of control, it's a great place to let your kid's imagination go wild! Watch and see what fun you can experience at Tiong Bahru Park.
Watch the Tiong Bahru Park Playground video above and read more about Tiong Bahru Park Playground here.
Click here to subscribe to our YouTube channel and to see more great videos!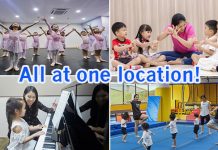 SAFRA Punggol is the ideal destination for families to have fun and unwind. It is not only home to awesome recreational facilities, but also...
Changi Airport offers something for everyone at three installations and activity zones in September 2019. All ready for the September school holidays 2019, the...
FEATURED LISTINGS