Canopy Park at Jewel brings a world of play and fun attractions for all ages at the top of the already-iconic complex at Changi Airport. With whimsical gardens, amazing views and one-of-a-kind play attractions, Canopy Park is a must-visit spot at Jewel Changi Airport.
Watch the video above and read more about Canopy Park At Jewel Changi Airport.
Click here to subscribe to our YouTube channel and to see more great videos!
Even though we live relatively near the Causeway, we had never really considered going on a road trip to Malaysia with our kid in...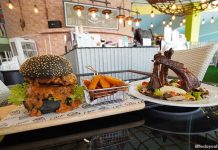 Most people head to the pool to get in some exercise or to have a soak. One day, we paid a visit to the Sengkang...
FEATURED LISTINGS