TRANSPORTA: Gooey Oozy Madness! is the third instalment of the TRANSPORTA edutainment series. This time, you get to weave yourself through a multimedia and interactive adventure into the world of viscosity with Gooey Oozy!
Watch our TRANSPORTA: Gooey Oozy Madness! video and experience what's taking place at Gardens By The Bay from 15 – 30 June 2019. Read more about the cool floor projections, interactive light and multimedia installations, as well as bouncy trampoline pits taking place here.
Click here to subscribe to our YouTube channel to see more great videos!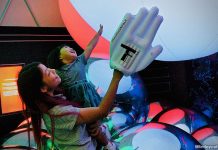 Early this year, TRANSPORTA got us Quirky with Quarks at The Esplanade. And now, we brace ourselves for another secret portal of slimey proportions...
The mid-year school break offers a chance for kids to be exposed to different activities. There are plenty of June school holiday 2019 workshops,...
FEATURED LISTINGS