Take the time to stop and smell the roses, literally, at Rose Romance at Gardens by the Bay 2019. The fragrance of one of the world's most popular flowers fills the air at the Flower Dome from now till 14 July 2019.
Wander amidst a landscape reminiscent of a medieval European garden at Rose Romance at Gardens by the Bay. "Ruined walls" and faux cobblestone paths line the Flower Field display.
By Any Other Name
That is certainly the case of the centrepiece of the floral display – a stone tower covered with roses. Dubbed Juliet's Tower, it even has a balcony for "A pair of star-cross'd lovers" to meet.
As Shakespeare put it, "A rose by any other name would smell as sweet" and there are many different varieties of roses on display at Gardens by the Bay's Rose Romance – more the 40 in total.
Take the time to admire the deep pink of the Princess Anne, named after Queen Elizabeth II's younger sister, or the lighter hues of the Lady of Shalott.
European Notes
Rose Romance at Gardens by the Bay flirts between being an English Garden, a Tuscan countryside and a French village with trelliages showing off varieties of climbing roses.
Stop by a display that shows the process of rose oil distillation, the extraction of the flower's essence to be used in perfumery.
Rose Romance at Gardens by the Bay is an invitation to slow down and admire beauty for beauty's sake, to pause and take in the fragrance of life.
Enjoying Rose Romance at Gardens by the Bay
Story continues below...
---
---
Story continues...
Those who are interested to learn more about roses can also join free guided tours that take place daily at the Flower Dome. Display interpreters will be sharing more about roses with during the tours.
In addition, from June 2019 to May 2020, Pioneer and Merdeka Generation can use their Pioneer and Merdeka Generation cards to enjoy complimentary admission to the Flower Dome every second Tuesday of the month.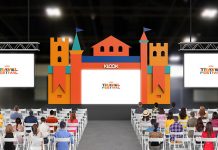 Klook, the travel booking site, is bringing a one-of-a-kind experiential travel fair to Singapore in October 2019. The Klook Travel Festival will be held at...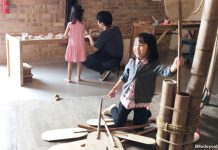 "It is a happy talent to know how to play." So wrote Ralph Waldo Emerson. Indeed, play is a natural skill that gives much...
FEATURED LISTINGS