Concerts and outings, museums and parks, animals and art – with so much going on to get your holidays off to a raring start, there isn't a moment to lose!
Till 15 Sept
The Artground
---
Story continues below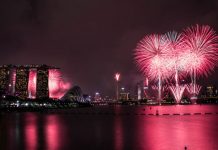 Have you got your New Year's Eve and New Year's Day 2020 plans all sorted? Another year (and decade) is soon gone, and we...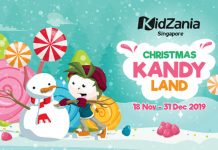 Reward your kids with the ultimate sweet treat and bring them to KidZania Singapore as it transforms into Christmas Kandy Land from 18 November...
---
Let your kids work their curiosity and imagination using everyday household objects like bedsheets, reading lights and laundry lines at this at this visual arts play space inspired by the home setting. Details.
8 June, 6 pm to 10 pm
Faber Deck
Enjoy great good, great music and a rollicking time out with the family as you bond over hawker fare, cable car rides, games and other fun programmes. Learn more.
Till 26 April 2020
Playeum,, Children's Centre for Creativity
Bringing artful, uninhibited play to children of all ages and abilities, Playeum's latest exhibition features four artistic zones where kids can let their creativity and imagination run wild. More info.
Till 30 June
Jurong Bird Park
Learn about critically endangered species of songbirds, marvel at their songs and understand why they must be protected. There are also craft and storytelling activities in store for the little ones. Find out more.
Till 29 Dec
National Gallery Singapore
Explore new worlds through art at this hands-on exhibition of 11 artworks that encourage kids and adults to embrace the wonders that can be found around them. Details.
Till 30 June
National Museum of Singapore
Head down to explore the museum's permanent galleries and treasure trove of history with interactive stations that present fascinating stories through hands-on play. More info.
Till 31 Aug
Science Centre Singapore
Travel back to the Cretaceous period when polar dinosaurs roamed and embark on a prehistoric adventure at this interactive exhibition. Learn more.
9 June, 3 pm to 4 pm
Esplanade Concert Hall
Take a balloon ride all around the world with SparkWinds as they play magical medleys from Studio Ghibli movies, Aladdin, La La Land and many more.
Till 30 June
S.E.A. Aquarium
Discover the many noises – good and bad – that fill the ocean and their impact on the marine environment and its inhabitants. Find out more.
9 June, 6 pm to 7:30 pm
Singapore Botanic Gardens
Catch one this talented live performer and songwriter from Denmark as he presents catchy pop tunes with a Nordic twist. More info.
Parenting is a 24/7 job. You can't apply for leave. But for your sanity's sake, you're allowed to sneak out for a little break...
Singapore's shores are teeming with wildlife we wouldn't usually notice. Getting to an intertidal zone during periods of low tide is the best way...
FEATURED LISTINGS