Embark on a journey of discovery at DinoQuest, the latest exhibition at Science Centre Singapore. Play the role of a palaeontologist and uncover the secrets of the Polar region dinosaurs.
Learn about the characteristics of dinosaurs, what led to their extinction and how scientists know about them today. View a display of a dinosaur dig site based on Dinosaur Cove in Australia and find out what happens once specimens are taken back to the lab.
DinoQuest is highly interactive and there are activities for visitors to participate in at its different thematic zones. At the end of the exhibition, visitors can also colour their dinosaurs and watch as it comes alive in digital form.
Learn more about Science Centre Singapore's DinoQuest.
DinoQuest
Where: The Annexe, Science Centre Singapore
When: 1 June to 31 August 2019
Admission fees apply.
Find out more about other "wild" exhibitions and activities being held during the June 2019 school holidays here.
Click here to subscribe to our YouTube channel and to see more great videos!
One of the largest playgrounds along Orchard Road not only has slides that children can enjoy but also a play-pretend road, complete with white...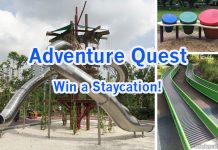 Woohoo! The June holidays are here! Now that school's out and fun's in, it's time to go on another Little Day Outing with us,...
FEATURED LISTINGS