This year, the S.E.A. Aquarium Ocean Fest 2019 returns with the theme The Noisy Ocean. Explore ocean soundscapes through sound and activity stations and uncover the impact of noise pollution on the marine environment.
Performances at S.E.A. Aquarium Ocean Fest 2019
On weekends and public holidays, at 12 pm and 2 pm, visitors can take part in an all-new percussion showcase The Celebration of Sound at the aquarium's Open Ocean Habitat.
Watch our video above to get a preview of S.E.A. Aquarium Ocean Fest – The Noisy Ocean.
S.E.A. Aquarium's Ocean Fest 2019 takes place from 17 May to 30 June 2019.
---
Story continues below
Guess who is heralding Christmas at Bedok Point this year – the Minions! Join Kevin, Stuart and Bob from 19 to 24 November for...
Let it snow, let it snow, let it snow in Singapore 2019. Dreaming of a white Christmas in tropical Singapore? Well, you can have...
---
Click here to subscribe to our YouTube channel and to see more great videos!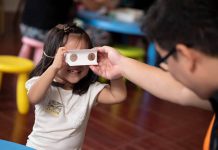 Scratching your head about what to do with kids during the school holidays? Want to head out as a family without breaking the bank?...
The Boys' Brigade Share-a-Gift 2019 project started off on Saturday, 7 December, with 350 volunteers heading out to deliver food hampers to beneficiaries around...
FEATURED LISTINGS