Celebrate Mother's Day and take a breather from mid-year exam preps with these fun, relaxing events and outings that are going on this weekend.
Till 17 May
Esplanade Theatre Studio
---
Story continues below
Popular Bookstore is a household name and, from 6 to 15 December, the Popular BookFest 2019 Singapore at Suntec Convention Centre Level 4 is...
We've packed six weeks worth of activities in an easy-to-use holiday guide. Whether you want to find out what is going on at the...
---
Shaggy is terrified of haircuts, but in a town where everyone is trim and tidy, how will he ever fit in? Find out in this interactive production about the importance of being yourself. More info.
10 to 12 May
Baghdad Street, Kampong Glam
Browse artisanal lifestyle, fashion and beauty products, snack on tasty street food and enjoy a chill-out day at this outdoor bazaar with kampong vibes.
11 to 12 May, 10 am to 8 pm
Suntec Singapore Convention and Exhibition Centre
Celebrate local agriculture, urban farming and honest-to-goodness food. A fab event for all who are interested in growing, cooking and healthy eating. Learn more.
9 to 12 May
KC Arts Centre
Featuring colourful puppets and cheeky humour,  this tells the story of Elmer the multi-coloured elephant who tries to blend in, only to realise that his friends love him for who he is. Details.
Till 30 June, 5:30 pm to 9:30 pm
PeopleUp @ Pandan
An immersive theatre experience for all ages, prepare to see familiar characters from your childhood tales come to life as they bring you on journeys into magical worlds. Find out more.
12 May, 5:30 pm to 7 pm
Singapore Botanic Gardens
A musical tribute to mothers and a showcase for some of Singapore's bright young talents. More info.
11 May, 1:30 pm to 3 pm
Keppel Centre for Art Education
Take inspiration from the works of watercolour artist Lim Cheng Hoe and then create your version of the Singapore landscape using tissue paper. Learn more.
11 to 12 May, 11 m to 8 pm
Marine Cove, East Coast Park
Head down for a day of artisan crafts and free play activities while enjoying fresh air and  lush greenery. Details.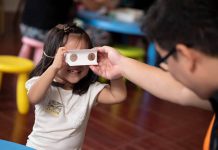 Scratching your head about what to do with kids during the school holidays? Want to head out as a family without breaking the bank?...
In celebration of Sesame Street's 50th anniversary, local souvenir retailer Goldwood Singapore just launched its line of Sesame Street themed products!From fun t-shirts in...
FEATURED LISTINGS