Love stories and theatre, music and outdoor play? Well, good news: this weekend is chock a block with concerts and stage plays, storytelling and craft activities, park events and water fun.
3 to 17 May
Esplanade Theatre Studio
---
Story continues below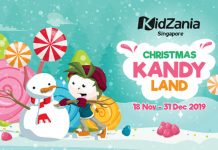 Reward your kids with the ultimate sweet treat and bring them to KidZania Singapore as it transforms into Christmas Kandy Land from 18 November...
The Boys' Brigade Share-a-Gift (BBSG) 2019 project aims to spread the festive cheer and love to 43,276 beneficiaries this year. Beyond that simply the...
---
An interactive play about how being different can be a good thing and the sometimes unexpected ways that you can fit in. Recommended for kids from ages two to six. Learn more.
4 May, 10 am to 5 pm
PAssion WaVe @ Pasir Ris
Get set for a fun afternoon of sports tryouts and recreational water activities at this inclusive play event for everyone of all abilities. More info.
1 May to 30 June, 5:30 pm to 9:30 pm
PeopleUp @ Pandan
This new immersive theatre experience for all ages is the largest of its kind in Southeast Asia, featuring 22 Insta-worthy rooms where audiences can interact with characters from childhood stories and embark on magical adventures together. Details.
4 May, 6 pm to 7 pm
Singapore Botanic Gardens
The New Opera Singapore and Daegu Opera House presents an evening of famous tunes by classical masters such as Vivaldi, Mozart and Verdi. Find out more.
4 May, 2:30 pm to 3:30 pm
Enabling Village
Let master storytellers Roger Jenkins and Sheila Wee sweep you off on delightful escapades in this fun session for the whole family. Learn more.
Till 5 May, 8 am to 10:30 pm
Jurong Lake Gardens
Head down to this new green hotspot for a full day of fab activities ranging from craft and storytelling to movie screening and more. Details.
4 to 5 May
The Theatre Practice
Treat yourself to some of Vivaldi's most underrated works that really ought to get more airtime at this donation-based concert. More info.
Till 26 May
Sands Theatre, Marina Bay Sands
Don't miss one of the most successful and acclaimed musicals of all time, filled with memorable music, drama and haunting romance. Find out more.
In gift giving, it is the thought that counts. So, how about making your retail dollar do double duty in spreading the love by...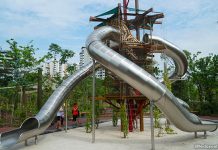 Play is not only the work of a child but a great way for families to bond as well. And where better for kids...
FEATURED LISTINGS