Hands up if you've been spring cleaning since the start of 2019, thanks to Marie Kondo, the petite Japanese organising consultant and author!
With the KonMari philosophy of tidying up still sparking joy around the world, we decided to lend a hand by pulling together some of our favourite quotes from Marie Kondo's "The Life-Changing Manga of Tidying Up".
Read, experience, and go on to tame your stuff; you can thank us later.
Quotes from "The Life-Changing Manga of Tidying Up"
"Storage is not the answer to clutter. You must begin by discarding."
"Storage – it's nothing but a cosmetic solution."
"The true purpose of your home and your things is to bring you happiness."
"Don't dress just 'for the time being'. Wear clothes you love!"
"Folding your clothes is an opportunity to show them your appreciation for all they do to support your life."
Story continues below...
---
---
Story continues...
"We read because we want to experience reading. If you've read a book once, you've experienced it. Even if you don't remember it well, it's still inside of you."
"We live in this moment. Who you are now is more important than memories of the past."
"We should use our space not for the person we once were but for our future selves."
"People are unable to discard things either because they are attached to the past or afraid of the future."
"When someone clearly identifies their own joy point, they gain confidence."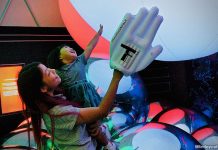 Early this year, TRANSPORTA got us Quirky with Quarks at The Esplanade. And now, we brace ourselves for another secret portal of slimey proportions...
Visit the Malay Heritage Centre and be a part of this year's Fiesta Hari Raya Open House 2019, taking place from 21 to 23...
FEATURED LISTINGS