Floral Fantasy, Gardens By The Bay's latest attraction, opens 14 April 2019. Located close to Bayfront MRT, this collection of floral displays is intended to showcase different artistic concepts across four different zones in a 1,500 square metre indoor space.
Floral Fantasy
Dance
Upon entering Floral Fantasy, visitors will encounter the first garden landscape, Dance. Flowers suspended upside down from the ceiling create a whimsical landscape which ends in a troupe of bobbing floral balls.
Float
Dance quickly gives way to the next section, Float, where a channel of water flows along the length of the garden landscape.
Waltz
Sheets of falling waters mark the start of Waltz, the next thematic area at Floral Fantasy. Reminiscent of a rainforest, Waltz is also where a vivarium of poison dart frogs can be found.
Highly-toxic in the wild due to their diet, these brightly-coloured amphibians only grow up to 2 inches in size – which makes spotting them in the vivarium a challenge.
Drift
The short stroll through the indoor Floral Fantasy exhibition ends in the cavern-like Drift section, where orchid and ferns decorate the rocky walls.
Flight of the Dragonfly 4D Ride
---
Story continues below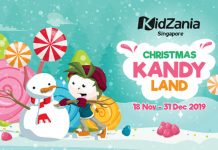 Reward your kids with the ultimate sweet treat and bring them to KidZania Singapore as it transforms into Christmas Kandy Land from 18 November...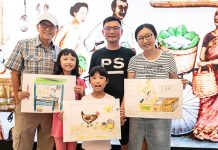 As the saying goes, it takes a village to raise a child and on Grandparents Day 2019, we honour some of the most important...
---
Capping off the Floral Fantasy experience is a 4D ride, Flight of the Dragonfly. This motion ride brings viewers on a soaring trip across Gardens by the Bay. It simulates the flight of dragonfly and highlights the Garden's many attractions.
Plants and Artistry
Floral Fantasy showcase more than 150 species of plants including the Chinese Juniper and Begonia "Darth Vader". The latter was named after the villain of Star Wars.
The floral displays were put together by a team comprising Melissa Tan from Gardens by the Bay and volunteers Fanny Low and Cristal Kok. Perhaps by coincidence, Melissa is a Star Wars fan.
An Artist Corner at Floral Fantasy also showcases the work of local artists. The first work to be displayed at the Artist Corner is Dawn by Kristine Hakim.
Floral Fantasy is a ticketed attraction. Standard rate for entry is $20 for adults and seniors, and $12 for children. Local resident rates are $12 for adults and $8 for seniors and children. Opening special rates are available between 14 April and 13 May 2019.
Run, run as fast as you can; be sure to catch SRT's The Little Company's The Gingerbread Man! The story about the mischievous little cookie...
Go ice skating. Complete an inflatable obstacle course. Become a human claw and grab attractive prizes! Fun times await at Aperia Mall's Christmas Village,...
FEATURED LISTINGS