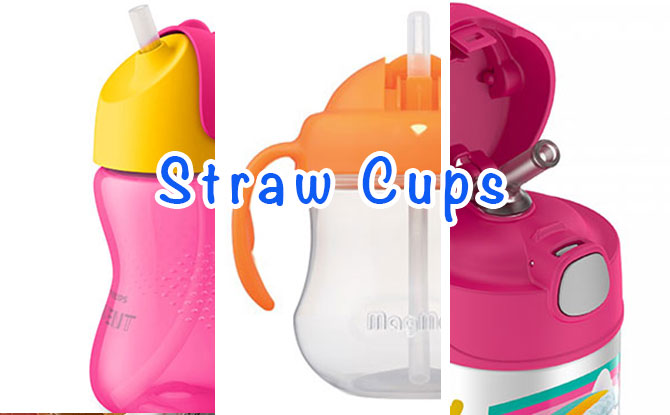 Any parent of a baby or toddler knows that there are hundreds of sippy cups available in the shops. It can be pretty overwhelming when you're standing in front of a selection of 30+ cups. To make it more confusing, parents have the choice between traditional spout sippy cups or no-spill straws cup for baby.
It seemed like ages before my daughter actually got the hang of using a straw. Once she got there, I ran with it and bought every other straw cup recommended to me. Needless to say, I now have a box full of straw cups of which she only loves one. Or two.
So what makes a good straw cup for baby? First and foremost, it shouldn't leak. EVER. But stuff happens. Fine. A good straw cup shouldn't leak when it's closed. Secondly, my child should ideally be able to obtain every last drop of liquid simply by using the straw. That's the point right? And lastly, it should be easy to maintain – easy to wash… easy to put back together… easy to find replacement parts… You get the drift!
Here are three straw cups for baby – or bottles – for your consideration.
Experience With Three Straw Cups for Baby
---
Pigeon MagMag Training Cup (Step 3)
---
Story continues below
What better a way to scurry into the New Year of the Rat than with a new year feast at Fat Chap! Priding themselves...
As parents, we want to give Baby the best care we can afford. But how can we be sure that we're making the right...
---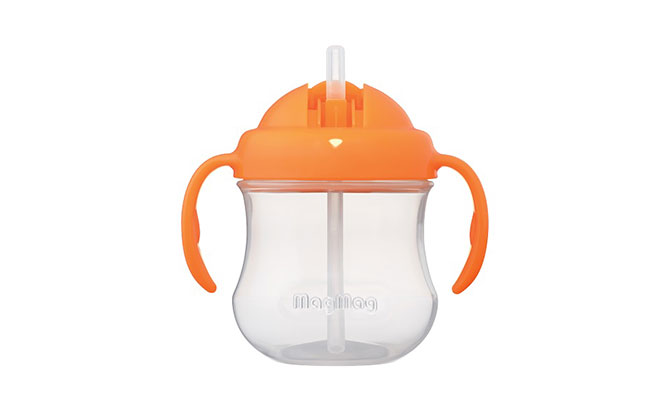 Credit: Pigeon Singapore
After reading a fellow mum raving online about the Pigeon MagMag Straw Cup, I went out and bought it the very next day as I started on my straw cup journey.
Now, one of the great things about the Pigeon MagMag Training Cup System – if you begin on it early enough – is that you could simply buy the one bottle, and change the drinking tops as your baby's drinking skills develop.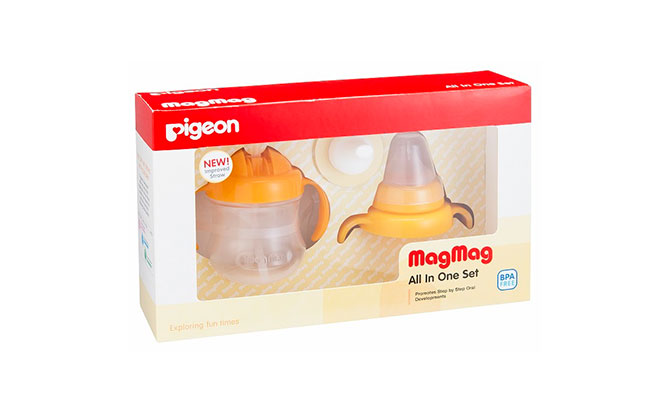 Credit: Pigeon Singapore
If you're looking to gift a parent-to-be, there's the MagMag All-in-One Set with three interchangeable tops, including Pigeon's Peristaltic PLUS nipple, a soft silicone spout, and a straw.
What I really like about the Pigeon MagMag Training Cup is its wide mouth, and "short" body which makes washing a breeze! One dishwashing sponge, one good scrub, and you're done without having had to use a bottle brush.
The cup is also fairly lightweight, and a great size for babies and toddlers to manage.
On to the cons, and there are numerous aspects of the Pigeon MagMag Straw Cup that I'm not a fan of, unfortunately.
Firstly, the Pigeon MagMag Straw Cup leaks. It leaks if it falls over on its side in the bag; it leaks when the straw is out and air needs to escape (I'd actually see milk pushing its way out of the straw as the cup is just sitting innocently on the table); it leaks when my daughter leaves the bottle lying around, again with the straw out.
And then there's the sum of its parts, quite literally. The Pigeon MagMag Straw Cup is made up of the cup's lid, a silicone rubber gasket or seal, the upper straw, the lower straw, an inner adaptor, an outer adaptor, and finally, the cup.
If you can't picture it, let me just say that's a lot to take apart, wash, dry, and then put back together, period. Also, the straws are tiny and not only have I managed to lose them, I haven't – for the longest time – found the replacement straws. Most shops simply sell the whole straw cup as is, and I've refused to buy it on principle.
I can't decide if I'd recommend the Pigeon MagMag Straw Cup but I'll probably say no only because it's such a hassle to take apart and put back. I'm a mother to an active two-year-old, I have enough on my hands, thank you very much.
---
Philips Avent Bendy Straw Cup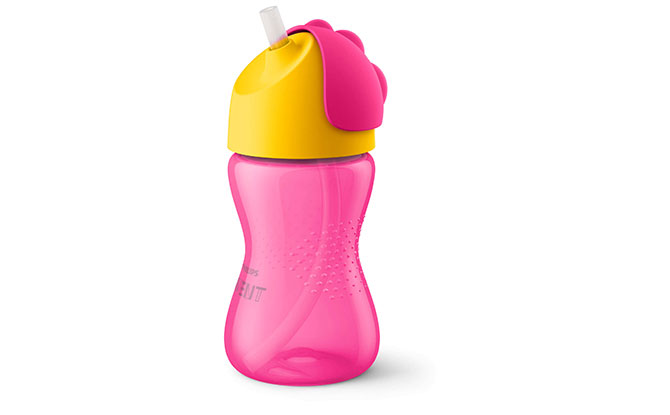 Credit: Philips Avent
The Philips Avent Bendy Straw Cup is the second straw cup I bought, and my daughter's been using since she was about a year old, and loving it!
The Philips Avent Bendy Straw Cups are available in two sizes – 200ml (recommended for 9 month olds and up), or 300ml (suitable from 12 months old on). Aside from the size, the biggest difference is that the smaller Bendy Straw Cup has handles.
I've watched my daughter grasp the bigger Philips Avent Bendy Straw Cup very comfortably as her little hands wrap securely around the curved body of the bottle. She's certainly never rejected use of the cup because of the lack of handles!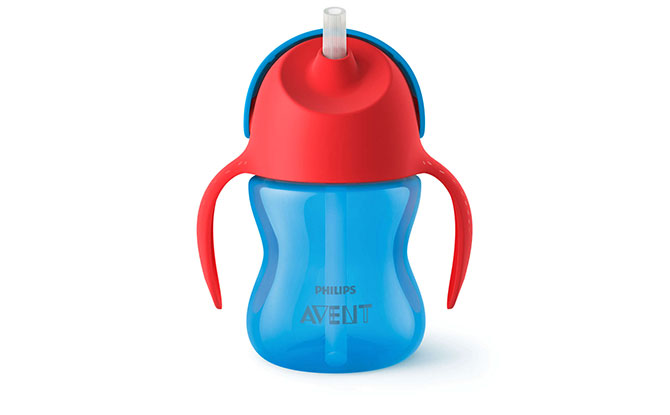 Credit: Philips Avent
You'll notice that the soft upper straw sticking out of the cup is relatively short, but according to Philips Avent that's a purposeful design to allow for your child's natural swallowing and tongue movement.
The stiff lower straw is curved ever so slightly, a design to ensure that the child gets every sip out of the cup. The slide/flip tops also mean your child will be able to open and close the cup independently and easily. I've found that once the bottle is shut, and the straw contained, the Philips Avent Bendy Straw Cup almost never leaks.
I say almost because, similar to the Pigeon MagMag Straw Cup, I have, on occasion, found the bottle sitting in a pool of milk. Somehow, the liquid gets "pushed" out of the straw, little by little. I've found that as my daughter's use of the straw improved as she got older, this leaky problem decreased, probably because she's better able to draw all the liquid out of the straw.
The Philips Avent Bendy Straw Cup doesn't have too many parts to mess around with which is great! However, I'm not a fan of having to use a bottle brush to wash the inside of the cup but I suppose that's the least of my concerns.
I really do love the Philips Avent Bendy Straw Cup and will definitely recommend it to parents who are looking for a reliable bottle for long-term use!
---
Thermos FUNtainer Stainless Steel Water Bottle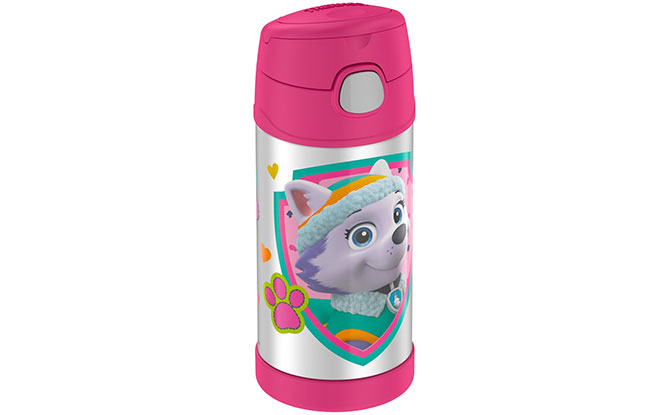 Credit: Thermos
My daughter never liked the taste of formula milk, so when she was old enough, I started giving her fresh milk.
Unfortunately, given the heat most days, fresh milk doesn't keep well or cold in regular water bottles. That's when I decided to look for an insulated bottle and found the Thermos FUNtainer Stainless Steel Water Bottle which is designed for use with cold liquids only.
Thermos' vacuum insulation technology allows liquids to be kept cold for up to 12 hours! I've tested that on numerous occasions, and the FUNtainer Stainless Steel Water Bottle really does the trick.
I've read suggestions such as putting reusable ice cubes into the bottle to keep liquids cold for longer, but I wouldn't because the bottle – being stainless steel – is pretty heavy, so imagine it filled up – it would weigh a ton to a toddler.
In any case, 12 hours is a long time to be out and about with 350ml of fresh milk!
Credit: Thermos
The Thermos FUNtainer Stainless Steel Water Bottle is easy enough for a toddler to manage – a simple push of a button and the lid flips open. There's even a nifty handle that fits neatly into the top of the lid; my daughter loved carrying her bottle around like a handbag.
Children really love the Thermos FUNtainer Stainless Steel Water Bottles as there are lots of popular designs to choose from, such as Spiderman, Paw Patrol, and even Hello Kitty.
I like that the bottle doesn't have too many parts to wash. However, it's narrow and sleek design means the use of a bottle brush to get the inside clean is necessary. You'll also need a straw brush for the straws.
Replacement parts aren't difficult to obtain, although I haven't actually bought any from regular brick and mortars. I've always bought my replacement straws for the FUNtainer Water Bottle online.
My main gripe about the Thermos FUNtainer Stainless Steel Water Bottle is the length of the lower straw. It doesn't at all hit the bottom of the bottle which results in a fair bit of wastage with every use. Either that, or I'd have to pour the remains out into a cup which really defeats the purpose, and is super inconvenient too.
---
Final Thoughts
Once your baby figures out the use of a straw, it really is a gamechanger! This is especially the case for parents looking to wean their babies off bottles.
Personally, I would recommend getting the Philips Avent Bendy Straw Cup for regular, everyday use, while the Thermos FUNtainer Stainless Steel Water Bottle is a good one to have for trips to the beach or park!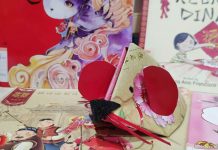 Dong dong chang! Right on the heels of Christmas is another important season for the Chinese – the Lunar New Year, of course. Remembering...
Singapore's shores are teeming with wildlife we wouldn't usually notice. Getting to an intertidal zone during periods of low tide is the best way...
FEATURED LISTINGS